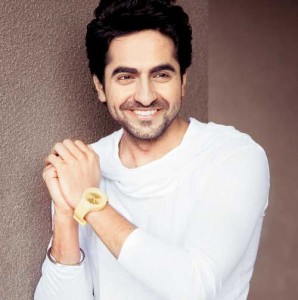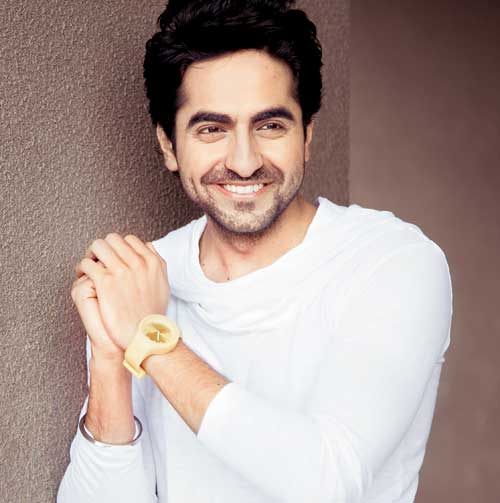 Starring the fabulous Ayushmann Khurrana and newcomer Bhumi Pednekar, the Yash Raj film Dum Laga Ke Haisha directed by Sharat Katariya, opened on February 27th to critical acclaim and audience cheers and applause. To give you an idea of how good this film is here is a quote from our review, "DLKH is a sweet story told with a lot of heart. This little gem doesn't just entertain, it warms the cockles of your heart. Don't miss it!"
Set in the 1990s, it tells the tale of the odd small town couple – loser Prem and his oversized wife Sandhya. They marry out of convenience and the troubles begin. However, on the road to what he thought he wanted, Prem discovers that his oversized and mismatched wife, Sandhya actually leads him to something quite cool – true love!
We were very lucky to catch actor Ayushmann Khurrana to talk about the success of DLKH.  Check out what he told us in this wonderful conversation about all things Dum Laga Ke Haisha including what he thinks makes it so special, why he thinks this is an important film and so much more!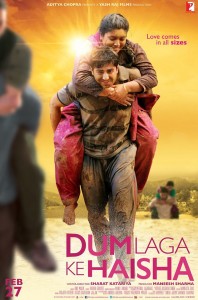 What drew you to the project of Dum Laga Ke Haisha?
Dum Laga Ke Haisha is just a very unique film. The title means Love comes in all sizes. It is about two complex characters – the female protagonist is overweight, of course and the male protagonist is uneducated, he's illiterate, he doesn't know English.  How they actually fall in love is the sketch of the film. The story is very true to itself. It is very real. The dialogues are very good. The set up is very good; the milieu of the film is very unique. It is set in the heartland of our country. It's very earthy in nature.
Amidst all the Bollywood commercial films, DLKH is a breathe of fresh air where it comes off as very real film. This is a very unusual Yash Raj Film because it is not a typical glossy Bollywood film with frills. It's a very simple, subtle, slice of life movie coming out of Yash Raj Films.
Tell us about working with Bhumi, because this is her debut film. I believe she was a casting director's assistant before this. 
Bhumi is a very good actor. She is a complete natural. Being a casting director you have to have a keen eye for acting and you observe a lot and you know, acting is also about observing. I think intrinsically every casting director is a good actor. Part of being a casting director is holding auditions.  She auditioned most of my contemporaries coming out of Yash Raj Films from Ranveer Singh to Anushka Sharma to Parineeti Chopra. She's been the casting director for the past six years. Part of being a casting director is normally when you take the auditions you give cues to the actors for the scene and play the other part. So she has become a good actor over the years and it comes across on screen. When you watch the film you realize she doesn't come across as a first time actor. She performs like a veteran.
How did you guys work together to create your characters and the chemistry?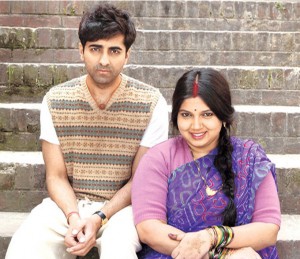 It did not happen organically or it did not happen naturally because both Bhumi and I, we are urban kids and the setting of the film is very rural. Bhumi is a Bombay girl; I am from Chandigarh, Punjab. The language which I speak and the one, which Bhumi speaks, is very different from what both of us are using in the film. So we really worked on the accent. We spent a lot of time with the cast and the crew. Most of the cast members, which really is an ensemble, are from this school called National School of Drama. The way they speak is very authentic, their Hindi is very authentic, their language is very authentic. So we spent a lot of time with the ensemble cast of the film. There is this guy called Mahesh Sharma who plays my friend in Dum Laga Ke Haisha and his accent is naturally like what was needed for the film. He has a very earthy character so he helped me out with the accent. We used to do script reading everyday. We used to play cricket together we used to hang out together. You know, in my college days I was a good mimic, so I copied his accent and I got the right accent.
So this is set in the 90s, what do you remember about that time and what was it like to go back to that era of cassette tapes, landline phones…?
We Indians, I think we live in the past. Being a 90's kid – I was in school in the 90's – the film reminds you of those cassette recording tapes.  I own a cassette recording shop in the film. It touches the right chord, it touches nostalgia. It is one of the few films, which touches the recent nostalgia and past, you know what I mean? Of course, we are used to period films, but this is something, which is very different because none of the films are set in the times of the 90s. I think that is the unique feature of this film. For me, the 90's were the school days, all Bollywood films, Kumar Sanu and the music. We have used 90's songs in the film. I think it really touches the right cord.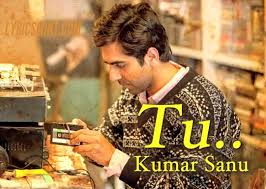 The music is by Anu Malik, which is fabulous. What are your thoughts on the soundtrack?
Anu Malik is the king of the 90's.  Kumar Sanu was the king of the 90's. Anu Malik has given a great album for Dum Laga ke Haisha.  A couple of songs remind you of the 90's, but also there is a semi-classical song called 'Moh Moh Ke Dhaage', then there is one quirky song called 'Sunder Susheel'. I think he really has given a perfect album for Dum Laga Ke Haisha. It works for the film. I think if you hear the song of the film you will relate to it completely.
The reviews have been great, in fact we gave it 4 out of 5 stars and so many more have been fabulous, especially since it is a smaller film and as you were saying, it is not a typical big Bollywood film. How does that feel?
It feels amazing. In fact, we were expecting that we will get decent reviews and that we would get a lot of critical acclaim. I think what is exciting and what is surprising is the commercial success of the film. We are in the 2nd week of the release of Dum Laga Ke Haisha right now and the 2nd Friday topped the first Friday box office, which is amazing. So I think we were expecting decent critical acclaim because the nature of the film is like that, the script was like that, but the commercial success that is coming our way is surpassing everybody's expectations, which is amazing.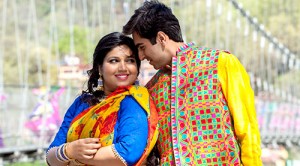 Were you surprised at the incredible response? I mean audiences have loved it.
In fact, I am pleasantly surprised – for sure! I am always critical of my work and my films because you cannot be objective about you own stuff. You know, honestly, I generally in life don't expect much from life. I am a very simple person. My demands are very minimal. I think life gives you surprises, which is amazing. If you have no expectations from life, I think you are happier as a person. The same thing happened with this film in particular.
The best thing about this film is that it is a medium budget film – it is not a big budget film so it is easier to recover the money. We had planned the marketing process well, because we did not really market this film before the release. It was a very unique marketing strategy.  We also did this unique thing called platform release. With DLKH I got equated with this platform release where the film is released in a limited number of screens like 70 screens for example. Now we are in the second week running and we have increased the screens. Onwards we are probably planning for an international release. I really think this has worked in the film's favor that we gauged the waters right and we got the positive response and then accordingly increased the number of screens. Eventually it benefited the numbers to the commercial success of the film.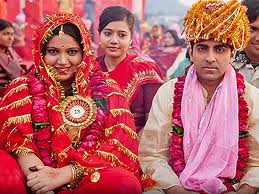 If you were to review the film what would you say?
The moment I read the script I was sure that we had a hit on our hands. This is the second time that has happened, you know with my first film Vicky Donor, I was absolutely sure that that film was completely out of the box when I read the script.  I did not consult; I did not take anybody's opinion about doing that script.  I just knew. The same thing happened with this film as well. When I got the script, I actually read it in two hours. The next day I was at Aditya Chopra's office and I was like Sir I am doing this film, let's roll. This was similar to Vicky Donor because it is a concept-based film and I wanted to do it.  For my previous films, I asked a lot of people, I consulted a lot of people. I took a lot of opinions. I was trying to convince myself to do those parts. But with this particular film I was completely sure, I was dead sure. I realized with this one that your first intuition is your best intuition.  In a way, success is a lousy teacher and your failures teach you a lot.
Objectively, if I have to judge this film, I would give 10 on 10 for sure.  You know, sometimes it is difficult.  The script changes when it translates to a film and when it gets on screen sometimes it is different. A good director can really change an average script into a good film and vice-versa.  With this one, thankfully the script was good and the director was good and everything fell into place.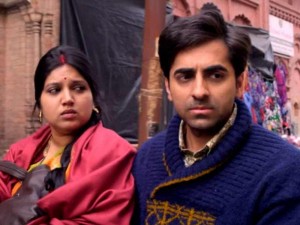 Tell us about working with directed Sharat Katariya.
He is a brilliant guy! He is a very, very real guy. The films you direct I think reflect your personality. Sharat is just like that in real life. He is a very simple person. His sense of humor is off. It is very different. He doesn't patronize. He doesn't use slapstick humor. He is a very real person and he takes the humor from real life situations and real characters and I think that is why the film works.
This film is kind of important, I think, because it does shine the light on a lot of different issues, I think. One for the fact that she is a heavier girl, also the education aspects, women's issues and more. Why do you see this film as important?
In a country like India, I do think this film is very important.  It is quite progressive because we do constantly focus on women's education, and we give a lot of credence to the looks and the physical appearance of a person. I think this kind of film is very important in that it is not only about looks, it breaks a lot of stereotypes.  It is not only about the actor, it is not only about the looks, it is about the compatibility between a couple. In the initial part of the film, the male protagonist gets repulsed by the size of the female protagonist, her oversized stature, but it is eventually about how they fall in love. It is a very interesting story. It certainly fits and goes with the current scenario of our country for sure. I really think it will open a lot of horizons. It is very progressive even though it is a period piece that is set in the 90's! The theme is very progressive and that is why I think it is right for everybody.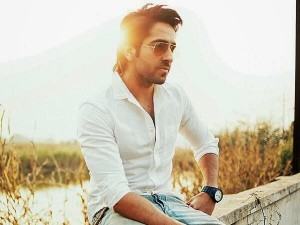 Tell us about your newly released book Cracking the Code: My Journey to Bollywood.
It is about my journey to Bollywood; it is not my journey in Bollywood. It is about my struggles. I think it will be a good help book or guide for the inspiring actors in India. It talks about how the film industry has changed over the years. In the 70's and the 80's all the studios were like fortresses, struggling actors were not allowed to step inside. Bollywood really was operating out of nepotism; only the star kids were allowed to be actors during that time. I think times have changed now. It is very democratic now. If you are an aspiring actor and you can get with a casting director you can audition, the opportunities are there. It just tells you about the changing trends. The book tells you about the mistakes I have made that other people should not. It is an ode to people who pack their bags and come to the city of Bombay and try to make it in Bollywood. It is also an ode to the people who are leaving this space after giving up. I think it is a good story about my struggle in Bollywood and about my journey. Hopefully it will be helpful to everybody.
A shout-out to your fans?
I don't like calling them fans; I think admirers is a better word. I would like to use this platform to say thank you to them.  To really express gratitude for liking my films and for liking our effort. For accepting me as a performer, an actor and a singer.  I just want to say to them, be happy in life and follow your passion!
What is next for you?
Next it is like a homecoming for me; I will be working with Shoojit Sircar and John Abraham – the same team that was on Vicky Donor. I will be working with them on a project called Agra Ka Daabra.
Thank you Ayushmann for the fabulous chat! I look forward to hopefully many more!
If you have not seen it be sure to go check out Dum Laga Ke Haisha, which is in theaters now!