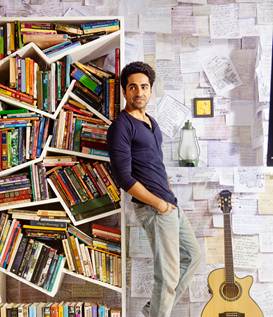 Check out the first look of Ayushmann Khurrana's upcoming film Hawaizaada, previously titled as Bombay Fairytale. Directed by debutant Vibhu Puri and opposite Pallavi Sharda, the period film is a biopic of scientific Shivkar Bapuji Talpade, who is believed to have constructed and flown India's first unmanned airplane in 1985, eight years before the Wright brothers.
It was the actress of Besharam who posted the still on Twitter along with the release date of the film, "Glimpse of Ayushmann Khurrana in his vintage Shivkar Talpade avatar for our upcoming film Hawaaizaada…Releasing Oct. 10!"
The picture shows Ayushmann as Shivkar Talpade while he observes one of his plane prototypes. As a source closed to the production explained, the scientist experimented with several types of planes until he succeeded to make one of them fly.
The film is set in Mumbai during the 1880s, so a great effort to capture the atmosphere of that time has been made. Director Vibhu Puri said, "We have done extensive research over the last two years to get the details right. Ayushmann has also learnt Marathi to get the nuances of his character right. As far as the plane is concerned, we got hold of the remains of the original aircraft, Marutsakha, which took flight in 1895. We then hired special artistes to create different looking but nature inspired aircrafts that we could use for the shoot."
Hawaizaada is currently on post-production and is expected to release on October 10.