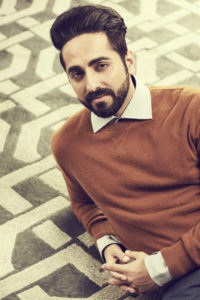 Ayushmann Khurrana has excelled in performances in slice of life films and has delivered huge super-hits with feel-good content cinema like Vicky Donor, Dum Laga Ke Haisha, Bareilly Ki Barfi and Shubh Mangal Saavdhan. For his new film, the versatile actor is set to explore the thriller genre and in Sriram Raghavan's untitled next Khurrana plays a blind piano player. Not only will he be tackling a new genre and a challenging role, the actor will show audiences his action avatar.
Keep in mind his character is blind so that will add an extra layer to his performance and will make the action sequences even more challenging. According to a source, "Ayushmann will be seen doing gritty, realistic action in this film. He plays a blind piano player who gets caught in the middle of crisis and he would need to fend for himself and escape the situation. Since he is a blind man, he cannot do illogical action that we see in our movies. It will be extremely real, gritty and believable."
The informer adds, "Ayushmann has jumped off the first floor of the building without harness and without protection on the ground. There is a technique to pull this off without getting hurt and he practiced it and perfected the shot to a T. There are several chase sequences that Ayushmann will pull off, a couple of very realistic hand-to-hand action sequences. Sriram is clear that it has to be convincing to audiences that a person with disability can pull off these sequences and not come across as macho, stereotyped Bollywood action sequences that are mostly unbelievable. Ayushmann has got a taste of action for the first time and he is loving it."
When contacted, Ayushmann confirms the story saying, "This is the first film in which I'm doing some very realistic action and it has been a great experience for me. I'm loving the rush of doing these sequences. They are extremely real. The highlight has to be me jumping off from the first floor of the building without harness or any protection on the ground. I did the shot in just one take and thankfully I didn't get hurt! I'm looking forward to pulling off the other action sequences in the film. It's going to be a good high."
We certainly look forward to seeing this story and Ayushmann's performance on the big screen. Stay tuned for more!
Picture Courtesy Abheet Gidwani