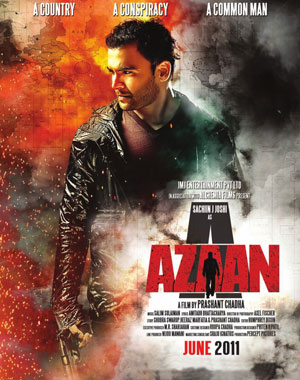 Aazaan is an upcoming thriller based around biological warfare, starring newcomers Sachiin Joshi and Candice Boucher in what has already been labelled the most expensive Bollywood film ever made. But what about the soundtrack? Have they gone over the top with that too?
Fortunately, no.
The Aazaan soundtrack is short and sweet – four original tracks, a theme instrumental, and 4 remixes. Brother composers Salim-Sulaiman are at the helm for this one, and have done a fantastic job of creating a lovely, melodic, coherent album that can stand apart from the film.
Afreen opens the album and sets the tone – and what a tone! A plaintively beautiful melody is accented sparingly with an array of instrumentation: Spanish guitars, shimmering electronic flourishes, violins, piano. What really shines is the yearning vocal track from Salim Merchant. The tempo of this track almost makes it sound poppy, but it has a beautiful melancholy to it.
There are three further versions of Afreen (which is the name of a central character in the film)  on the album so it's clearly an important song in the movie.
The Desert Mix by Abhijit Vaghani is pretty much what it says in the name – as well as adding the all important electronic dance beats, this remix concentrates on evoking a kind of Middle Eastern dance vibe.
The second Afreen Remix by DJ Suketu ft Pavan is a trancey, synth heavy club mix. It'doesn't really add much to the song but I do have to admit I like how different each version is!
The last version of Afreen on the album is Afreen (Reprise) and this is possibly one of the the most moving tracks on the album. Rahat Fateh Ali Khan handles the vocals over a backing that starts out fairly simple – just an acoustic guitar, before dramatic strings and piano soar to match the intensity of his voice in the chorus. It's simple, effective, and haunting. This is all this song needs – no flashy instrumentation, just a gorgeous expressive voice and that beautiful melody.
Khuda Ke Liye is a fragile, downbeat soft-pop love duet that probably wouldn't be out of place in a  YRF production. Salim Merchant and a sweet voiced Shradha Pandit trade verses in between anthemic choruses, in a shimmering, multilayered track punctuated with handclaps, piano flourishes, sparkling electronic effects, and echoing choirs. This track will grow on you, I promise – you'll love it a little bit more every time you hear it. The remix of Khuda Ke Liye by Abhijit Vaghani is almost unrecognisable from the original – gone is the shimmering fragility of the beautiful love song in favour of a bass heavy, thumping club track that juxtaposes Shrada Pandit's breezy vocals against a chaotic, near industrial sounding mix. I really like it.
Bismillah is a full on Sufi track, sung with emotion by Kailash Kher. Hypnotic in its rhythm, sparsely instrumented to foreground the vocals, I can't fault this one much except to say it might stretch on slightly too long without much variation. It feels like the odd one out on the album – possibly because it's obviously more of a situational track than the others. The music is faultless though, let me be clear on that.
We take a turn into masala item number material with the fun and sexy Habibi Habibi – which kicks off with a violin solo and handclapping. A confident and sensuous Mitika handles the majority of the vocals with contributions from Benny Dayal, who sounds like he's having fun. This one has a  definite funked up Middle Eastern vibe in its arrangement, and its easy to imagine a picturisation focussed on belly-dancing girls in a tent. Catchy, sexy, upbeat, fun – and like many of the tracks on this album, contains distinct traces of Spanish guitar. Could be addictive.
Finally we have the Aazaan theme. You don't hear themes often on Hindi soundtrack albums – the last one I heard was on the Lafangey Parindey soundtrack. I love them though, they are so dramatic and filmi. This one starts out subdued – a pretty piece of piano music, before strings and rumbling drums create the atmosphere you'd expect from a thriller. It's a nicely dramatic piece of music, and I like how it picks up bits from the other tracks – but its not something you'd listen to very often outside the film.
Overall a pleasant, if not earthshattering album. I'm especially into the remixes on this album – they don't feel like filler (like so often is the case) but are worth a listen!