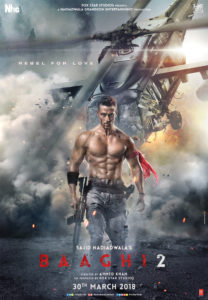 An adrenaline packed action movie of Rambo levels, Tiger Shroff's Baaghi 2 is a follow up from 2016's Baaghi: A Rebel for Love, which propelled Tiger to stardom. Disha Patani has replaced Shraddha Kapoor as the leading lady to our action hero. The film is taken to new heights under the direction of Ahmed Khan. As a reflection of the characters, the songs must provide music to describe a variety of strong emotions. There will be power, there will be anger and loss but the audience must have fun too! Thus the producers have opted for a range of music directors namely Mithoon, Arko, Sandeep Shirodkar, Gourov-Roshin and Pranaay Rijay to each give their own take on the situation.
Coincidentally two remakes open the OST for this film. Sandeep Shirodkar takes responsibility for Mundiyan, a remake of the famous collaboration between Punjabi MC and Jay-Z (yes, that one!). Navraj Hans and Palak Muchhal are the singers of this new version. Sandeep tries a reverse remake on this track by adding a lot of dholak and using Palak to replace the rap breaks of the great Jay-Z. While the singers themselves are competent and unfailing in their efforts, it's hard to see what is being tried here as the original is so well known. From the clip available on Bollyspice there is a lot of lights and colour but even Tiger and Disha fail to make this song more interesting than the original.
For anyone who has ever heard of Madhuri Dixit, the next song Ek Do Teen will ring bells. For this version, Madhuri is replaced by Jacqueline Fernandez and behind the mic is Shreya Ghosal rather than Alka Yagnik. Unfortunately for Sandeep Shirodkar that's where the differences end and the remake does not work. The song does not seem to have been modernized, Shreya sounds exactly like Alka as if she was a voice mimicry artist and even some of Jacqueline's dance moves are 'Instagrammed' in Madhuri's famous poses. Even this is not a complete success as Shreya goes off-piste occasionally to remind us she isn't Alka Yagnik, which in this case ruins the memory of the old song that is replaying in our minds.
With the remakes out of the way, the album moves onto a soft love song sung by Atif Aslam with music by Arko. O Saathi is a love song version of the typical second quarter of a Bollywood film where the boy, with a bit of persistence, eventually wins over the girl by being brave but also sweet. Yet by using Atif to sing this song there is this anguish. The clip for this plays out with Tiger seemingly looking back on the times in which his character met Disha's. Arko provides a decent background score with a combination of dholak and strings, but in a lot of places these take over the singer and Atif's nasal rendition make it difficult for the lyrics to stand out. An unlisted female vocalist is used to bring light in the background.
Lo Safar is up next sung by Jubin Nautiyal. Under Mithoon's guidance Jubin does a superb job here singing this very sad feeling love song. Once again this does seem to be about memories of a long-lost love, but the songs beauty touches the heart of the audience. On screen Disha and Tiger look good, happy to be together and with definite chemistry. Mithoon provides acoustic guitar background with flushes of tabla to give a solid endpoint to verses. There is certainly a rising power within the song so its possibly being used to get the audience from a tender moment to some heart pumping action.
The final love song is Soniye Dil Nahi. Gourov-Roshin take over for this song and bring in Ankit Tiwari and Shruti Pathak. This is more for both Tiger and Disha and whereas the others have been about lost happy times, this is very much the one where hearts have been broken. There is a lot of echo used to burn the image of pain into the listener with an electric guitar providing backing for added anger. A constant heartbeat provided by the drums make it the complete package which makes it easier for the singers to excel. Visuals are similarly touching so the effect is maintained throughout making this a perfect song for those who know the feeling.
This album could not be completed, however, without a power track by Pranaay Rijay, Get Ready to Fight Again. Nothing unexpected in this likely title track: heavy drums, electric guitar all accompanying a powerful singer (in this case Pranaay himself) with accompaniments by Anand Bhaskar, Jatinder Singh, Siddharth Basrur and Big Dhillon. Listening to this beat, you imagine Tiger to be walking or running strongly forward possibly with his shirt off in an almost Baywatch manner. Considering the rest of the album this song holds no surprises and does its job well.
Baaghi 2's music gives us a combination of fun tracks, sad (in degrees) love songs and the requisite power track in the classic six song format that Bollywood has employed well over the years. Each music director and each of the singers have provided music that matches the requirement of the moment being portrayed so in itself it is hard to criticise. However, the viewers memory of a film's music is dependent on the x-factor, that feeling that either the song has significance for our lives, that it will encourage strong emotions or that its just the perfect song for the perfect time. Starting with two remakes that fail to stand out from the original and ending with a title track that sounds like every other doesn't help this cause at all. The meat in the sandwich in terms of the three love songs that seem to just get sadder as we listen down the OST doesn't do it any favours either but maybe they can be saved by how they fit in the film. So, in conclusion, the film, in cinemas now, will have to be watched to understand this album.