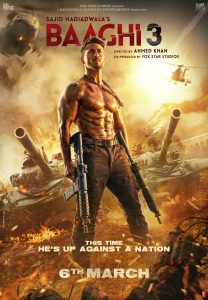 Baaghi 3
Starring Tiger Shroff, Shradha Kapoor, Ritesh Deshmukh, Jaideep Ahlawat
Directed by Ahmed Khan
Okay admit it. Are you in this for a strong message and a sturdy storyline? Then you are in the wrong theatre. If it's not too late, go exchange your ticket and watch Thappad or Shubh Mangal Zyada Saavdhan. Because that's where all the drama is.
If you are in this for the action, then you are in the right place. Baaghi 3 has outstanding stunts by the Fearless Nadia of modern times Tiger Shroff. Unlike the Stunt Queen of the Silent Era there is nothing even remotely silent about Tiger. And hell, he's got better muscles than Nadia for sure!
Ploughing through two-and-a-half hours of boom-boom and rat-a-tat, smashed bones and gnashing teeth I was struck by how much fluency Tiger brings to the ferocity. I just didn't want the stunts to stop. Could Tiger please not do the dialogue-baazi? It's like Sania Mirza playing cricket.
The stunts are this time way superior to what we've seen in the previous two Baaghi films. This time director Ahmed Khan has given over the choreography to others. He focuses on the action.
And the results are… potent and lethal. The rugged hinterland (Serbia serving as Syria) shot by cinematographers Santhana Krishnan and Ravi Chandran (evidently 2 can do it better than 1) is virgin-fresh. Wish the same could be said about the plot which is dog-eared and mildewed. Kid Brother Ronnie (Tiger) loves his Bhade Bhaiyya Vikram (Ritesh Deshmukh) to death.
"People cross all limits for their loved ones. I've crossed the border," Ronnie snarls through his gritted teeth. I wish he would just get on with the action instead of indulging in the dialogue baazi which is so clogged with jingoism, we could trip over the rhetorics while picking our way to the top of the plot. It's like the legendary Helen. Every time she spoke I wished she would just dance. Every time Tiger speaks Farhad Samji's cheesy lines of designer-pluck, I wish he would just fight.
The search for the missing brother kept me watching most of the way, although I knew the plot was ripped off from Raj Kumar Santoshi's Ghayal. Originality is not a priority when family is at risk. Speaking of family, Tiger's Disha Patani shows up for a well-choreographed dance number. Tiger's killer dance moves keep you enthralled. His romantic track with Shradha Kapoor is half-baked and a distraction.Shradha seems to have walked out of the Saaho sets straight into this Syrian sojourn suffused with stunts and nationalism.
The terrorist –villains are played by assorted actors of unquestionable capability saddled with the job of making global terrorism look like a formula for thrills. Let's just wait for the day Bollywood decides to replace terrorism with caronavirus as Villain No.1. Baaghi 4, perhaps?