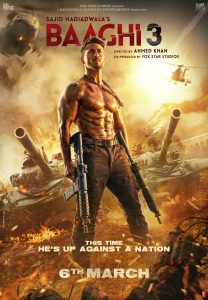 Tiger Shroff and Shraddha Kapoor are 2 of the finest young performers in Bollywood today. They have lit up our screens with their flair, their style, their looks but most of all the fearlessness with which they bring characters to life. Baaghi 3 brings them back together for a follow-up from the smash hit Baaghi, after a break in between for Baaghi 2. Both previous films have been lauded for their musical quality, both in terms of their willingness to break the barriers of costumes and dance, as well as the popularity of their raw rhythms. Vishal-Shehkar are the hit team asked to take on this challenge to find a musical continuation to this sensational film series.
Dus Bahane 2.0 opens this album and is exactly what the title suggests. This is a reworking of hit song 'Dus Bahane' from Dus, this time with Tiger and Shraddha rather than Abhisekh, Zayed, Suniel and Sanjay as the leads. Shannan, KK are back with Vishal adding a few cut-in lines to break up the sound. Musically speaking, this new version has not lost any of the original although there is a little extra club beat and a little more brass then before. Occasionally, there is clever work with tempo to change up the flow just a bit and Tulsi Kumar gets the last verse almost as an afterthought. All-in-all, not much to talk about, just enough change to call it a new song, just not enough to give it a new title.
Bhankas follows the line of 'Dus Bahane 2.0', but features the master of the remake, Bappi Lahiri. Bappi Da has remixed his own old classic from Jeetendra's Tohfa (also starring the late Sri Devi) for another very similar sounding but 'upgraded' new version. This is like previous remakes that Bappi Lahiri has done of his own songs including most recently 'Arey Pyaar Kar Le' from Shubh Mangal Zyada Saavdhan and a bonus track (featuring Tiger but not as part of this album… 'I am a Disco Dancer 2.0'). While the song itself doesn't have much change from the original, its new avatar does make for a fun wedding song which is exactly what its purpose is.
Every film needs an item song, and so we have Do You Love Me next on the album. This features Disha Patani seeming to ask "Do you… Do you… Do You Love Me" of real-life boyfriend Tiger. So visually this is certainly clever, but as a song it sounds more like some late-90s, early-2000s gangsta rap. Nikitha Gandhi's voice is perfect for this dark sound and even though she doesn't get much in terms of lyrics to work in, she makes a good effort of holding this song together.
And where an item song will come, there must be a title song… so Get Ready to Fight Reloaded. Like Dhoom, Race or Golmaal, this is another remake of a themed title song that has carried through the series. However, unlike the above mentioned, this one features a new singer Pranaay who brings a louder energy to this song then was allowed for in Baaghi 2 where the song played more as a background score for Tiger.
The album ends with 2 very long songs (at least for this album) at nearly 5 minutes each.
Faaslon Mein by Sachet Tandon takes on a heavy-hearted love breakup angle with both drum and tabla bashing out a heartbeat in between Sachet's heartbroken lyrics. Cue the violins and piano to give added power to the emotion, but overall, this really doesn't have anything new to say. Even the addition of a heavenly chorus at the end fails to drive this song into any new level that any other song of this type wouldn't already be expected to reach.
The other song is Tujhe Rab Mana. Featuring Shaan partnering Rochak Kohli, this sounds like something straight from Coke Studio India or similar programs. A light acoustic guitar and occasional piano are backed by a softened drum sound in a song about brotherly love. While the tempo goes up and down in this song, it really fails to go anywhere. Especially given that this makes the full 5 minutes, it can only be guessed that many brothers will listen to this song and attach their own feelings to it.
Admittedly this is the part 3 of a strong film series and so doesn't want to deviate much from the themes that have come before, however what has made this franchise strong is the variation in musical styles, in musical use towards storytelling and in how the music supports the characters. The 6 songs here, while a return to the standard format of Bollywood albums past, delivers 6 songs that have little to no relevance whatsoever. When half the album is a straight set of remakes and the other half fails to step up and prove its worth, requiring the listener or audience to make it relevant, then this is not the classic Bollywood cinemagoers have come to expect.