Starring: Prabhas, Rana Daggubati, Anushka Shetty, Tamannaah Bhatia, Sathyaraj, Ramya Krishnan
Directed by S S Rajamouli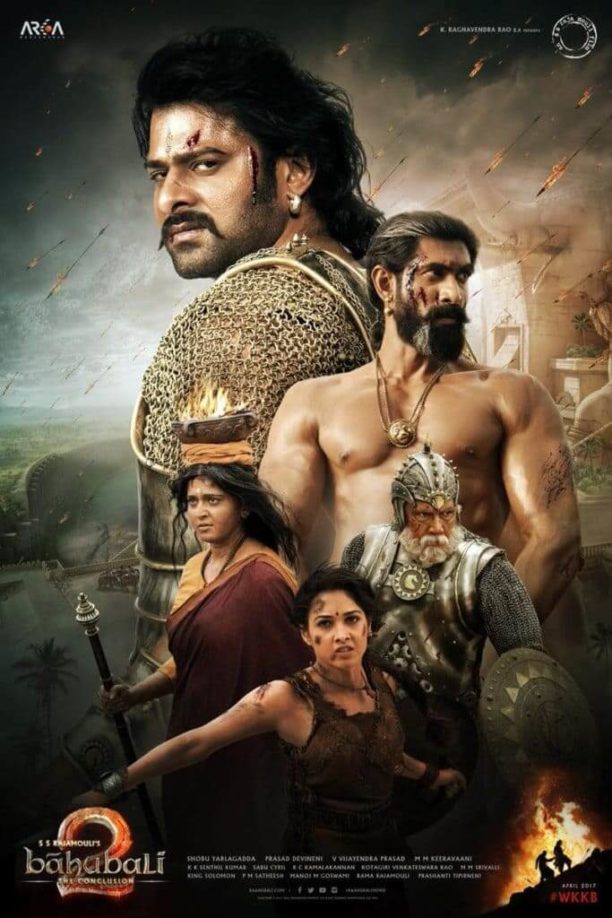 By the time the enrapturing narrative actually arrived at the key plot point—why did Kattapa kill Baahubali? —I had forgotten that this question had haunted the nation for two years. There is much more to the second and tragically, conclusive and concluding segment of the Baahubali saga than the Kattapa query.
So much glory grandeur, and above all such spectral wisdom. By the time we finish watching Baahubali 2 – The Conclusion we are far better informed about human nature and its tendency to betray those whom we love the most.
Yes, Baahubali 2 is much bigger than the first film in every sense. It is far deeper and dreamy, drawing us into its magic and magnificence with a seamless swoosh that sucks us in. We fall into the ravine of ravishing courtly machinations with no desire to pull ourselves out of the hypnotic spell that Rajamouli casts on us.
Before we know it we have entered Rajamouli's enchanting kingdom of Maheshmati where intrigue, treachery, passion and redemption straddle in a tight embrace riding together in a chariot of ire that hurls across cinematic vistas never explored before. The episodes come together in unexpected ways, generating through the drama a repertoire never-experienced splendor and spectacle. The swirl of colours on the sets and in the costumes is like Moulin Rouge on a Devdas trip. But the treatment vision and the characters' karmic quirks are all peculiar to Rajamouli. He courts the epic without drawing attention to the enormity of the scale that his vision dares to climb.
That Rajamouli is an extraordinarily skilful storyteller goes without saying. He wastes no time in introducing the characters. We are supposed to know them first hand from beforehand. And even if there are some viewers out there who haven't seen the first Baahubali film, the plot  uncovers in sweeps and streams of majestic arrogance that accommodates our ignorance of the characters' background and our unconditional awe for the film's visual spectacle in the same range of  vision.
The second instalment of the great Baahubali franchise is so lush, luscious and luminous it's like being transported repeatedly to a paradisiacal peak, not once not twice but over and over again. Rajamouli spins an enchanting web of  images that seem taken straight of the Indian mythological tales, mainly the Mahabharat. But he gives it his own splendid spin. A spin that makes our heart swell and heads spin.
Let's put it this way. Rajamouli's characters think Ramayan but act Mahabharat.
This work of exquisite mythological art is easily the acme of cinematic achievement, a landmark to beat all landmarks, including Rajamouli's first Baahubali film which in hindsight seems more like  a blueprint for the main event that is the second part of the franchise. True, at  a few minutes less than three hours, this is a lengthy epic. But an epic in the truest sense where the dramatic conflicts and battle-field confrontations merge into a fulfilling magical journey into Neverland where anything and everything can happen.
The film's twists and turns are so coherently and tautly worked out, that not for a moment do we feel we are watching a drama that has no bearing to contemporary reality. True, the performances leave much to be desired. Barring Anushka Shetty who is elegant, regal and tragic, and Ramya Krishnan who exudes a blend of matriarchal pride and feminine intuition (the confrontation between the two actresses is among the highest points in the storytelling), the male cast is hellbent on hamming all the way. While Rana Daggubatti wears the same expression of disdainful scorn throughout, Prabhas seems confused every time he has to speak a line that has more than three words. Both actors come into their own the minute they galvanize into action.
Rajamouli's period drama flaunts characters who are confounded by a fate far larger than their fighting abilities. The war sequences, fearsome and awe-inspiring beyond anything we've seen in Indian cinema and shot by cinematographer K K Senthil Kumar with a penchant for lavishness that goes well with the film's deliciously ripened feel flavour fervor, show not just the character's valour and heroism but also expose them to be vulnerable mortals who, for all their deified posturings, are susceptible to the rules of mortality much in the same way that we ordinary mortals are.
Portraying a world of larger-than-life, mythologized and anointed by a destiny that disperses drama, Rajamouli takes us on a journey so grand, epic, enchanting and unforgettable that it would be impossible for us to look at any other costume drama with respect, let alone awe.
Who would want to live in a cardboard kingdom after entering Rajamouli's world of marbled marvels whose floors and exteriors glisten with pride and passion?
Is the Baahubali saga really over? Truly the end of era!!
Forget Kattapa. Rajamouli kills it.