Are you a Baahubali fan? Do you love the visuals and the graphics in the film? The film which released worldwide in 2015, became the highest grossing Indian film in India (3rd globally). Baahubali has captured the nation's imagination.
Now you can get close to India's epic fantasy film with official merchandise from Amazon.in.
This slideshow requires JavaScript.
With Baahubali 2 releasing tomorrow, get your hands on the customized official merchandise and give your life a fantasy Baahubali touch with products like Baahubali Kattappa's Weapon Armoury Fridge Magnet, Kattappa's character Icon Mugs, Baahubali House Sigils Coaster and Bhallaladeva War Mace Posters.
That's not all!! Get yourself the best graphic copy of the Baahubali House Sigils and Icons Notebook that would make your friends jealous!!
Now you know why Kattappa killed Baahubali…to get his hands on all this merchandise.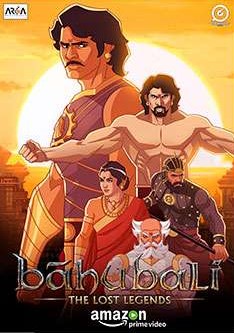 Amazon Prime Video recently premiered the Amazon Exclusive animated series called Baahubali: The Lost Legends exclusively for its Prime members. Created by SS Rajamouli, Graphic India and Arka Mediaworks, audiences can now watch Episode 1 of this Amazon Prime Video Exclusive with fast follows of remaining episodes starting 19th May. Baahubali: The Lost Legends is set before the Kalakeya invasion depicted in the ₹600 crore blockbuster movie. The series will take the viewer back in time as a prequel to the movie narrative; with a focus on the young lives of Baahubali and Bhallaladeva. The narrative revolves around the two brothers competing to rule the greatest kingdom of its age, and the epic adventures they must endure to prove they are worthy of the crown.
Consumers on www.amazon.in and the Amazon mobile shopping app have an easy and convenient access to 100 million products across hundreds of categories. They benefit from a safe and secure ordering experience, convenient electronic payments, Cash on Delivery, Amazon's 24×7 customer service support, and a globally recognized and comprehensive 100% purchase protection provided by Amazon's A-to-Z Guarantee. They can also enjoy Amazon.in's guaranteed next-day, two day delivery, Sunday and Morning delivery on products fulfilled by Amazon.