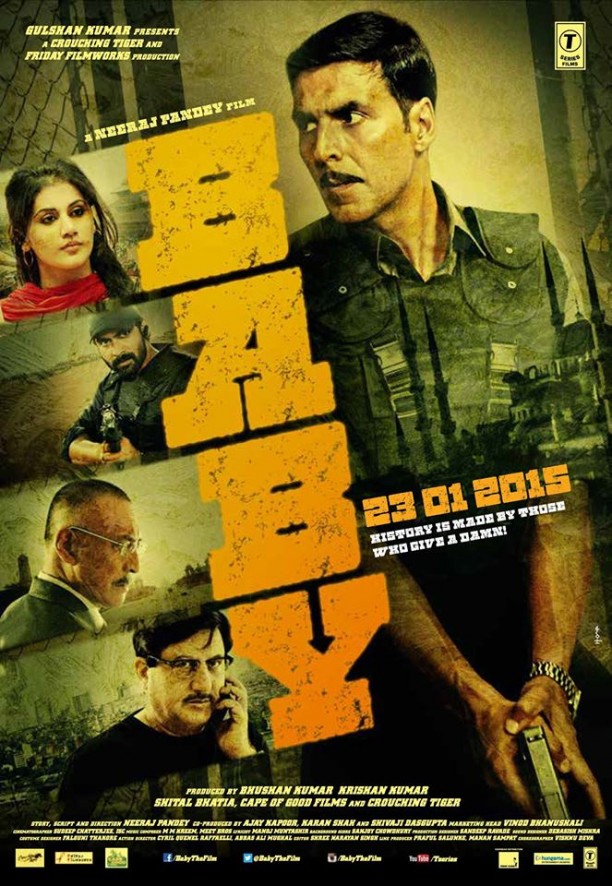 Picture this. An elite team who target, intercept then either eliminate or bring to justice terrorists and criminals. Whilst on an operation to save one of their own, information is obtained (read smacked black and blue out of) from a criminal of a major attack. Travelling from country to country, now begins the chase to take out the masterminds behind it. Sound familiar. Well it should. You've seen it more than a million times, with one of the latest being Akshay Kumar's Holiday. However, coming from the National Award winning Neeraj Pandey, you would think Baby would blow your mind. Yet the mind is not blown enough.
Right from the actors to the action, Baby was never meant to have the usual tone for a CIA-in-combat-fighting-against-terrorism storyline. It was more gritty, more swift, more dark. This isn't about the patriot that screams his passion filled anthem at the top of his lungs. The unit of Baby are crazy, persistent and willing to go ahead with anything for their nation. All this even with the knowledge their government has plausible deniability up their sleeve for the rare occasion they get caught.
At the helm of the team, we have our martial arts master of screen Akshay Kumar. As Ajay, a paramilitary recruited under Feroze Khan played by Danny Denzongpa and his man at the forefront for the important covert ops, Akshay delivers and gets the most exposure. His collaborations with Anupam Kher the few comical scenes in the film but he sticks to his characterisation throughout. He himself strolls his way into our giggle bone and does his magic, wig and all. Rana Daggubati gets about 3 lines to say, is built like a tank and is aptly referred to as Hulk. At the same, you don't really get a chance to see the actor enough to think he's dopey also. Another character with not enough footage is Taapsee Pannu. In a short role, the lovely lass packed quite a punch, literally. Hopefully we will see more of her. Off the field, we have Danny Denzongpa who is forever reliable to be suave and oh so cool. Murali Sharma gives you the giggles everytime you see him on screen and Karan Wahi doing the backend hacking/paper trail/call interception is just okay. K.K. Menon is reliable for instilling fear without the extra bad guy buffoonery and does his bit while Rasheed Naz exhibits a cunning sinister character aplomb.
So what brings down this almost brilliant story? Well, a few things. For one, the blatant obviousness of the screenplay. Yes, having a cryptic script isn't good but for a suspense action film, its kinda vital and the action can only do so much. What you end up with is somewhat a bedtime story. The climax is about the only time you are on the edge of your seat and it wasn't the most exhilarating setup either. Then there is the lack of connection to the characters. Whether is Rana, Tapsee or Madhurima Tuli who plays Akshay's wife Anjali, the loose ends and lack of depth couldn't be covered.
Now we all know its the movie business, and while you can swallow the political smothered all over the place, you don't really know what writer Neeraj was intending.
Baby is not path breaking, nor is it a commercially spellbinding film. The heroism is evident and yet, the music is lacking in feel. So is it's lackluster affair, in Bold and Capital.