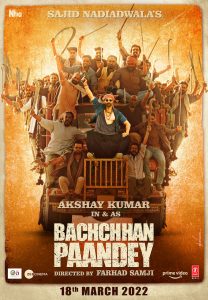 Bachchhan Paandey
Starring Akshay Kumar, Kriti Sanon, Arshad Warsi, Pankaj Tripathi, Jacqueline Fernandez
Directed by Farhad Samji
Akshay Kumar does a Pushpa and gets away with it. He kills,destroys property, and vandalizes good taste. But hey, his men love him. And the women too. Mr. Pandey's ragged army consists of Kandi (Saharsh Kumar Shukla), Bufferia Chacha (Sanjay Mishra), Pendulum (Abhimanyu Singh), and Virgin (Prateik Babbar). Each of the four is given a backstory, lest Mr. Pandey is accused of hogging the limelight.
Kandi, for example, is a porn addict, and his wife catches him red-handed if you know what I mean. Pendulum …I am not sure why he is thus named. I suspect it's something obscene. When his sweetheart is forced to marry another man, Pendulum gatecrashes the wedding with Mr. Pandey singing Sarey bolo bewafaa. The bride also joins in with Pandeyji, doing dance moves that would seriously threaten Simone Biles' career.
I want to know where Mr Pandey learnt to dance like Michael Jackson on a fullmoon night? He is as a ruthless killer but in a lengthy flashback he romances Jacqueline Fernandez with stirring precocity.
In the present the vivacious Kriti Sanon play a struggling filmmaker(with an aging father who is pushed around on the sets by an arrogant jerk of a director, modeled on perhaps someone we know?) who wants to make a bio-pic on Mr Pandey. He calls it a tooth-pic , and everyone is supposed to laugh or he will pump a bullet or plunge a knife or set the naysayer on fire with what he calls 'Iraq ka pano'. Petrol, silly.
Silliness cruises through the veins of this dial-a-joke gangster comedy. Bachchhan Paandey is reprehensible, horribly inopportune and politically incorrect. To make a film where the hero is a coldblooded killer and marauder is a moral vicissitude that we have to suffer in our movie experience. Ever since Ashok Kumar in Kismat in 1943, audiences have favoured bad boys as heroes, whether it was Dilip Kumar in Ganga Jumna, Amitabh Bachchan in Deewaar , Ranbir Kapoor in Rockstar, or Vijay Deverakonda in Arjun Reddy, the simmering seething sozzled anti-hero has been the patron-favoured public ka pyara , raj-dulara, ankhon ka terror.
But no cine-hero so far has been emboldened to declare he loves killing people. I don't think even Nawazuddin Siddiqui who played a real-life serial-killer in an Anurag Kashyap film(don't want give the ruthless killer any publicity by naming him or the bio-pic) ever actually said that.
Bachchhan Paandey does.
At one point in the noisy, messy film(the colour palate is that of a child left to smear colours in a kindergarten classroom) he tells Kriti Sanon(an aspiring filmmaker who wants to make a bio-pic on the glass-eyed Pandey) and her sidekick Arshad Warsi a sob story about how he became a gangster because he didn't have money to pay his father's medical bills. Before Sanon can react 'Bachchan' Akshay Kumar bursts out laughing and admits he became what he is because he enjoys killing.
This is the first time I've seen a leading superstar of mainstream cinema play a character who ENJOYS killing. Even Amjad Khan's Gabbar Singh didn't say it aloud. His actions spoke louder than words. Bachchan Pandey's words speak as loudly as his action. He is an aberration a subverted horribly misconstructed version of the noble heroes that Akshay played in Air Lift, Padman, Namaste London and Toilet Ek Prem Katha. He plays this …this….trashy monster with a glee that suggests, 'Look you guys out there. I am bored of being good. I want to have fun playing bad.'
Good luck with that.
It's a loathsomely crude part, the kind that one sees desperate actors play in cheap Mexican films. Why would a star of Akshay Kumar's stature play this despicable creature of the ravines? A self-indulgence , perhaps. But this time PM Modi isn't going to be pleased.