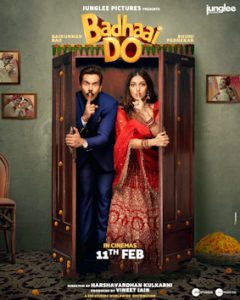 Badhaai Do
Starring Rajkummar Rao, Bhumi Pednekar
Directed by Harshvardhan Kulkarni
This remarkably lighthearted film on a very sad lavender marriage couldn't have been easy to make. There is so much to be said about the tragic misrepresentation and gross neglect of the gay community. And really, the audience is not in the mood to be tutored about how the gay/LGBTQ community deserves to be treated.
So here's what director Harshvardhan Kulkarni and his talented writers Suman Adikary and Akshat Ghildial have done: they have brought in an army of prejudiced opinions into play and then put them in a non-preachy engaging agreeable charming perspective without getting over-cute.
A tall order. But Kulkarni has pulled it off with panache and assurance. And though the film could have been better edited—the segment where Rao's mom, played as a scatterbrained spaced out non-interfering matriarch played by the seasoned Sheeba Chadha in a family of bullies and busybodies, goes on and on losing its sheen with every passing shot—Badhaai Do succeeds in doing what no other mainstream Hindi film has done: it confers a dignity and credibility to the LGBTQ community without getting hysterical or self righteous.
The tone remains stubbornly ebullient,though not at the cost of blow-drying the complex emotions for easy consumption. The vast cast is fully clued in to to the tricks of the trek. The 180-minute journey is not without its hiccups. But the principal actors, the very exceptional Rajkummar Rao and Bhumi Pednekar, not to mention a supporting cast of immensely intuitive skilled players imbue the main conflict with a bedroom of conviction.
One of the film's many charms is the supporting cast of partially unexposed faces standing in as the intrusive family: why isn't Shardul(Rao) getting married, when he does get married why isn't Sumi(Pednekar) getting pregnant, and who is that North-Eastern girl living with Shardul and Sumi? Chum Darang as Jhilmil, Sumi's girlfriend is one of those many fresh faces that lend a vitality and vivacity to this mellow drama of a marriage of tragic compromise.
While some of the intended highpoints, like Rao's drunken confessions to his newly married beard…I mean bride Sumi during the honeymoon, fall flat, other moments of dramatic conflict, such as Sumi's father(Nitesh Pandey)'s breakdown after she comes out in front of her family, are tremendously effective.
Rajkummar Rao's coming-out sequence will be recalled for years as a turning point in Bollywood's uneasy relationship with the gay community. Yes, Hindi cinema on sexual themes finally seems to be attaining puberty.