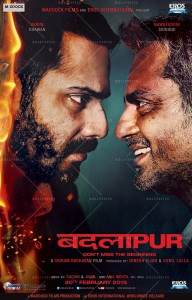 The hard hitting and gripping thriller Badlapur has definitely lived up to expectations and soaring high week after week! The film has crossed the benchmark of Rs. 50 Crore despite being an adult film.
With strong critical acclaim and strong word of mouth, the film has been reached the 50 Crore mark with ease. Right from Varun's performance to Sriram Raghawan's brilliant plot and direction, every aspect of the film as been celebrated with the box office figures as proof of the film's caliber.
Dinesh Vijan's Badlapur is one of the few Adult films to have passed the Rs.50 Crore mark, and the makers are super thrilled with this achievement. Maddock Films has been known for producing offbeat content , and Dinesh Vijan's cinematic sensibilities towards his home production i.e Finding Fanny and Badlapur have reaped him extravagant successes.
Sriram Raghawan was indeed thrilled by the performance of Badlapur at the box office said, "My first box office success, obviously I feel good. This was a risky project and could have gone either way. I remember last year this time, Dinoo saying, let's do it if you promise not to dilute it. I daresay, we pushed the envelope and I am thrilled that the bulk of our viewers enjoyed it and got the point of the story. It's thanks to a great team and a dream cast."
The delighted producer Dinesh Vijan adds, "It is a milestone for an adult thriller to do this kind of business we couldn't have asked for more…the overwhelming response and support from the audience and the media is what has made Badlapur a success."
KUDOS to the Badlapur Team!