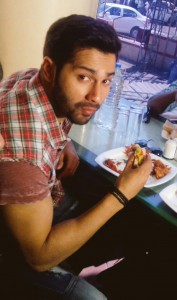 On 7th Feb, Saturday the Badlapur team, Varun Dhawan, Nawazuddin Siddiqui and Producer Dinesh Vijan went on a road trip from Mumbai to Pune for Badlapur promotions.
The highlight of the road-trip was that the media traveled along with the stars in the same bus and took interviews on board. The bus halted at various locations such as Vada pav stall where stars took a quick break, a college fest in Pune, press con for Badlapur and Seasons mall.
The digital team was also in the move as well as running an activity in the bus with the hashtag #TheBadlapurBus wherein we conducted a Q&A with Varun Dhawan and he replied to five best questions using the all new video feature of Twitter.
The reach and impressions of this activity were so high that Twitter India featured the activity and shared a case study in real time.
Check it out!
http://twitter.com/TwitterIndia/timelines/564005011382738945
http://twitter.com/TwitterIndia/status/564009728468983809?s=04