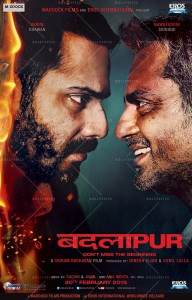 Badlapur is an upcoming action/drama starring Varun Dhawan, Huma Qureshi, Yami Gautam, Divya Dutta and Nawazuddin Siddiqui in the leading roles. Directed by Sriram Raghavan, the film is reportedly based on a man who seeks to get revenge on the goons who killed his wife and child in front of his eyes. Badlapur is scheduled for cinematic release on 20 February so don't miss out on this much talked about film which has Varun in a totally different 'avatar.' The music to the film has been composed by Sachin-Jigar, with lyrics from Dinesh Vijan and Priya Saraiya. So is the music to Badlapur worth checking out? Read our review to see what we thought of it.
First up we have the adrenaline-pumping Jee Karda by Divya Kumar. I like the use of rock music and bass in this one and it gives the song a nice rough coating to it that will be appreciated by many. In addition, I loved the use of the shehnai halfway through the songs which was unconventional, yet nicely executed. I also enjoyed Divya's vocals, who sings with a lot of soul and meaning. There is also a very cool rock version which helps to elevate the song to a whole new level. An interesting piece of music to listen to and I think it will surely appeal to many for its unique arrangement. Overall, 'Jee Karda' gets a big thumbs up from me for being entertaining, yet different also.
Next is the much talked about romantic number Jeena Jeena, which has been performed by none other than Atif Aslam. I very much liked the use of the guitar and flute in this particular composition, which gives the song a silky and mellow feel to it. Moreover, Atif sings splendidly throughout the song and thus, this one will definitely be a winner with the masses. There is also a remix version of this song, which I did not find very intriguing to listen to and is no different to the countless other dull remixes I have heard before. However, I would say that the original version of 'Jeena Jeena' is probably the best song I have heard so far this year. Definitely do not miss out on this great tune!
Finally we have Judaai by the wonderful Rekha Bhardwaj and the very talented Arijit Singh. The song is very unusual and you can hear Rehka sing in a tone which I have not really heard her sing in before. Arijit was of course as great as usual but my main problem with this song is the composition. The theme is of course a slow number but I think the music was just not arranged in a way that will have a gripping effect on listeners. Maybe you will disagree with me, but I think this is an average number which could have benefited from a stronger musical structure.
To sum up, although Badlapur is a very short album, I think it is a respectable effort on Sachin-Jigar's part and they deserve praise for creating some catchy and infusing songs that will undoubtedly be popular with Bollywood lovers globally. Overall, this is a nice kick start to 2015 and I'm sure the film be just as interesting when it releases on 20 February!