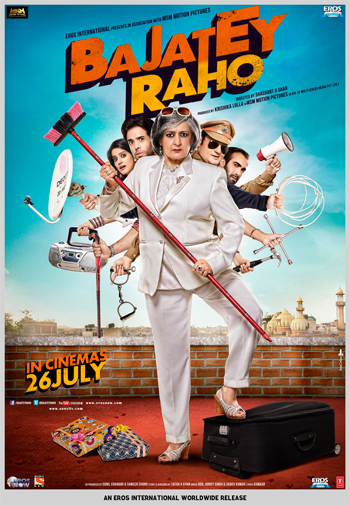 To be conned or not to be conned? And then is the revenge for the same going to be bitter and crude? Ask the same question to director Shashant A Shah and he will say, "Let's make them laugh till it hurts!" Neither is the director taking revenge and nor has anyone conned him, this is the theme of his next film Bajatey Raho, produced by Eros International and MSM Motion Pictures. The first look for this revenge comedy was unveiled on Monday, 17th June, 2013. The schemingly funny film stars Tusshar, Dolly Ahluwalia, Vinay Pathak, Ranvir Shorey, Ravi Kishan and Vishakha Singh. This is MSM Motion Pictures' first film outing as producers and first collaboration with Eros. They also unveiled their MSM Motion Pictures ID at the launch.
When one has so many actors with brilliant comic timing under the same roof, you can't help but have an evening full of bone tickling laughter.
"We have seen many genres of comedy being made in our country, and so it was time for something differently funny. We are pleased to associate with MSM Motion Pictures and produce this out of the box entertainer. The beauty about the story of this film is that it will keep you on the edge… laughing. We have a superb cast who have time and again proved that they wear comedy not just on their sleeves, but in their hearts as well. And Shashant is a storyteller who has proved in the past his capability of narrating one in a brilliant manner. We have had a lot of fun producing this film and I am sure the audiences will have fun watching it too," said Producer Krishika Lulla.
NP Singh, COO, Multi Screen Media Pvt Ltd. said, "We are delighted on our association with Eros International and look forward to a fruitful venture with them. We are extremely happy with the way Bajatey Raho has shaped up and are sure it will entertain audiences across India. It is a fun filled film set in Delhi. All the characters are beautifully written and the actors have done more than justice to it"
The actors and the director lost no opportunity to pull each other's leg and make the evening a keeper memory for the laugh riot diaries.
"I love the concept of revenge comedy because it manages to combine laughter with vigilante aspect in one package. I have a fabulous star cast and a perfect background like Delhi to shoot in. This is a family entertainer and I hope the audience likes this revenge comedy," said Shashant. This film has many firsts and the most important one is the genre, which will set the trend in India.
Vinay, who has been a part of all Shashant's films (Chalo Dilli and Dasvidaniya) said, "It is always an interesting character that drives me to take it up and Shashant has always been very kind when it comes to offering me a role in his film. Even in Bajatey Raho, my character is very different from what people are used to seeing on-screen."
Ranvir, Ravi and Tusshar shared their experience of working in Delhi in the winters and how much fun it was to work in a script like this. The boys bonded over food, fun and of course the film. "We have all had a lot of fun while shooting for this film. I am glad that stories like this are being made these days," adds Dolly Ahluwalia.
Bajatey Raho takes us through a journey where all hell has broken loose and it's only the crooks left to rule the roost. Now the only way left to fight Evil is con against a con.
When Sabbarwahl (Ravi Kishan) is on a roll committing a series of frauds, all in the garb of a successful business entrepreneur, little does he know that one of his misdoings has created a huge impact on the lives of 4 poor sods: Mrs. Baweja (Dolly Ahluwalia), Sukhi (Tusshar Kapoor), Mintoo Hasan (Vinay Pathak) and Ballu (Ranvir Shorey). This is turn has only resulted into an enormous wave of need for vengeance. And when Mrs. Baweja decides to take things in her hand, there is no more stopping the good hearted underdog who have to become a 'little BAD' to fight the 'very BAD'. Coz at the end of it all Happy Ending it is… but all you will want to say is 'Bajatey Raho'!!!