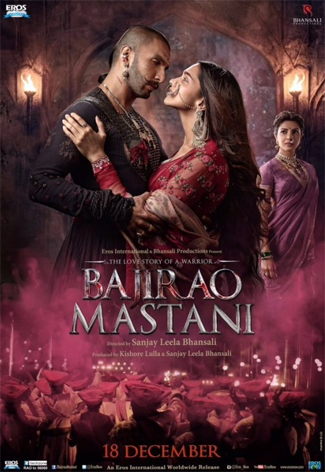 Set to release on December 18th, Sanjay Leela Bhansali's Bajirao Mastani, starring Ranveer Singh, tells the story of Bajirao, one of history's greatest unsung heroes; a Maratha Peshwa who rewrote the true essence of love and fearlessly protected his kingdom for over 47 long wars. It is an epic tale and the love story of a warrior that also stars Deepika Padukone and Priyanka Chopra.
Not only has Sanjay Leela Bhansali directed Bajirao Mastani, he has also composed the music for the historical saga that is being called his magnum opus. I loved SLB's music for Guzaarish and looked forward to hearing what he would create for this epic film. After talking with lyricists Prashant Ingole and Siddharth and Garima I was even more excited to get lost into the musical story of Bajirao Mastani. So does the soundtrack transport you to the time, the place and the feeling of Bajirao's world? I have to say an unequivocal yes!
Deewani Mastani is a brilliant track musically, vocally and lyrically. Lyricists Siddharth and Garima told us exclusively that this devotional song "actually defines Mastani's love for Bajirao" and each note and each line makes you feel that love as you are listening to it. The track begins with an incredible Qawwali sung by Ganesh Chandanshive. The song then transforms into a lyrical piece featuring the ever-wonderful Shreya Ghoshal. Her crystal clear pitch both in the soft and the harder sections is fabulous. She is the perfect voice for this song and I have a feeling I will be saying that a lot about her on this OST. Bhansali's music is phenomenal. It has this light melodic touch that gives off such a feeling of yearning with the string instruments, but then at the same time a strong percussion line to ground it. Another wonderful section of Qawwali is also featured sung by Mujtaba Aziz Naza, Shahdab Faridi, Altmash Faridi, Farhan Sabri. The full of sound song is classic, it is perfect and a joy to listen to. I loved it when I heard it with the amazing video featuring Deepika Padukone and I imagine it will be even more when seen within the context of the full film. I can't wait.
Arijit Singh is featured on Aayat, along with Qawwali vocalists Mujtaba Aziz Naza, Shahdab Faridi, Altamash Faridi and Farhan Sabri. With lyrics by A.M Turaz, this track too is full of feeling and of beautiful notes. Arijit, as always, puts lots of emotion in his rendition and it works. Another brilliantly composed track by Bhansali, you can imagine this to be a part of the world of Bajirao Mastani and I can't wait to see what will be happening on screen.
From the first celebratory drumbeats of Malhari, you know you are in for a rousing listen. Much like Ranveer Singh, who shines in the picturization of 'Malhari', Vishal Dadlani is a perfect match for the victory song. That rough rock edge to his voice adds that extra element to make it sound even better.   The song definitely showcases, as lyricist Prashant Ingole said, "Whenever we "marathi" people celebrate we have loads of dhol, taashey and we throw loads of bhandaara/gulaal". The music is mad, it is fast and actually for me a bit too much, but it plays really well on screen and that is where it will work. Give it a play but I would say for this one watch and listen.
The incredible Mohe Rang Do Laal is a song that is the moment Bajirao and Mastani fall in love. Lyricists Siddharth and Garima told me that the song "brings alive that moment in history when a Peshwa must have witnessed beauty in its truest form. The moment where a Mastani must have given her heart to a warrior, for the rest of her life." With their incredible lyrics, the picture is painted and we have not even seen the full shot. The classic composition and instrumentation transports you to the time of Bajirao and Mastani and you feel as if you are there. Then you add in Shreya Ghosal, who is perfect again, and you have a song that is the music of Bajirao Mastani. Another track I can't wait to see especially with Ranveer and Deepika.
Traditional in form and feeling, Albela Sajan is a situational track that features vocals by Shashi Suman, Kunal Pandit, Prithvi Gandharva, Kanika Joshi, Rashi Raagga and Geetikka Manjrekar. With each track Bhansali has done a tremendous job of taking you into the musical world of Bajirao and with this piece it again seems to fit into the world of a Peshwa and his court. It will be interesting to see what story unfolds as this plays in the film.
A lovely ethereal music line begins Ab Tohe Jane Na Doongi and it is a treat to the ears. The song is then transformed by the amazing vocals of Payal Dev, whose tone in both soft and strong avatars is full of yearning, love and of hope. She has a classical flavor to her voice that takes you inside music and notes. Shreyas Puranik, who with his soulful rendition adds another pitch perfect layer to the track, joins her. Another great musical piece by Bhansali, the music keeps you in the moment and the era of the film and backs up the singers' fantastic performances. It is another song that plays well on its own and I imagine will mean and be even more once seen on the big screen.
Shreya Ghoshal and Vaishali Made feature on Pinga, a song of two women who love the same man. As we have seen in the video, 'Pinga' is a song that accompanies an epic dance sequence by Deepika and Priyanka. It is a "battle" in some ways, but it is also a song, according to the lyricists, of the two women empathizing with each other. Both Shreya and Vaishali are perfect, there is that word again but it is true, singing the challenging song. They each bring in a spicy inflection that fits the syncopation and adds a percussive element that is really cool. The music with its traditional folk flavor is a bit light and needs deeper percussion and a grounding layer in my opinion but it still fits the world and the dance. Once seen in the incredible dance number it all fits together to make another fabulous addition to the music in the world of Bajirao Mastani.
Aaj Ibaadat had me in musical heaven from the first wailing notes of the flute. The musical goodness continues throughout the song with another outstanding arrangement and composition by Bhansali. This is one of my favorite tracks musically. Then we add in the fervent vocals of Javed Bashir and it just gets even better. He sings with such incredible essence you feel the lyrics in each note. It has the shades of a devotional song with wonderful backing vocals of Shahdab Faridi, Altamash Faridi, Shashi Suman, Shreyas Puranik. The music is a highlight but it is Javed Bashir that makes 'Aaj Ibaadat' brilliant.
Full on folk flavored, Fitoori is another great addition to the musical components of the film. It is the song of a dancer, says lyricist Prashant Ingole, who is saying don't trust me. With a lavani base each line and each note presents the Marathi era and feel. The music is good, but it is the vocals that really stand out on this one. The folk sections, sung by Ganesh Chandanshive, are brilliant – he is amazing in tone and feeling. Vaishali Made is the hook and the center of the song and she hits the notes and the feeling splendidly. Add in the brill back up vocals of Aishwarya Bhandari and you have song that is vocally superb. I have feeling this one is going to sound even better in the theaters set in the world of the film.
Last but certainly not least, in fact it was first to be released, Gajanana is another excellent track. A Lord Ganesh devotional piece, the track is sung impeccably by Sukhwinder Singh. With thumping percussion the composition musically frames the Ganesh aarti scene that I imagine will be going on in the film but done as only Bhansali can do – full of grandeur! I can't wait to see it in all its glory.
One of the best things about the music of Bajirao Mastani is that you don't have to know the story of the film to get lost in the music, the vocals and the lyrics. It plays alone even as much as it adds to the world of Bajirao, Mastani and KashiBai. And it does that because every note, singer, lyric, instrument in every arrangement of the tracks take you into the time, the place and feeling of the setting and story of Bajirao Mastani. I can't wait to experience the music enhance what I expect to be outstanding performances by Ranveer Singh, Deepika Padukone and Priyanka Chopra in this epic tale presented in the brushstrokes of brilliant colors of Bhansali's sets and costumes.