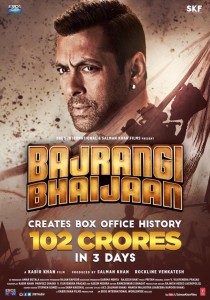 You can bet that with the stories of many a fan and even the stars of Bollywood tearing up while watching Salman Khan's Bajrangi Bhaijaan and then the praise that has been pouring in we expected huge numbers for the film but they are even bigger than anyone expected. The Kabir Khan directed drama smashed records and crossed Rs. 100 crore mark in India in its opening weekend, with a net box office of Rs. 102.60 crores and even hit an incredible Rs. 51 crore gross overseas and that is just in 3 days!
The critically acclaimed film smashed previous records by becoming the fastest 100 crore for a Hindi language film.
Plus, Bajrangi Bhaijaan also scored the highest single day collection for any film in India with a net of Rs. 38.75 crore on day 3 (19th July).
The trend of huge box office numbers continued with an astounding Rs. 27.05 crore in India on Monday, making it the highest Monday figure for any film in India.
Bajrangi Bhaijaan has reported phenomenal business overseas too with the film breaking records across the U.S. And UK. It was the highest overseas grossing weekend for a Salman starrer and also the highest Eid weekend gross in overseas of all time. The film was at number 9 in the Top Ten US box office charts and number 5 on the UK charts. It broke all records on Saturday by crossing the million dollar mark for one day in the USA at $1,025142 with a total weekend of $2,621,282.
Commenting on the film's performance, Nandu Ahuja, Sr. VP, India Theatrical, Eros International Media Limited, said, "Bajrangi Bhaijaan opened to good reviews from audiences and critics alike and the film has taken the box office by storm. Salman has once again established his continued dominance over the Hindi film market and the film looks unstoppable. His huge fan following, Kabir's fabulous story and direction combined with the Eid weekend have proven to be a winning formula once again. It has also registered the highest box office in almost all territories of India for the weekend. The week ahead looks extremely promising as well with Monday collections being the biggest ever".
About the overseas success, Pranab Kapadia, President – Marketing and Distribution, Eros International Plc said, "While we were anticipating a very good opening in the overseas markets, Bajrangi Bhaijaan has surpassed those expectations and created history with the film being Salman's highest ever weekend".
Now it just remains to be see how high the box office number for this film will fly! It certainly has thrilled, moved and made the audience cheer!