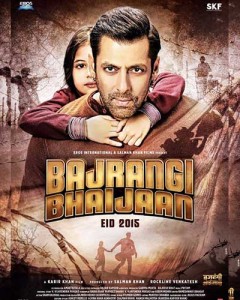 Almost every Bollywood junkie knows what to expect when they walk in to a cinema hall to watch a film starring none other than Mr. Salman Khan. Most of his releases during the course of the last five years have been films which have mind-numbing storylines; sexy, yet useless heroines with not much to do; as well as action/violent scenes written specifically to glamorize Salman's much-talked about body and abs. However, to my immense surprise; Bajrangi Bhaijaan has none of these features and it is ultimately a poignant story about the relationship between a noble Indian man, who is determined to return a six-year-old girl to her parents across the border in Pakistan.
Bajrangi Bhaijaan is a film which looks at the relations between India and Pakistan from a more humane angle, as opposed to political. This film is not about the heated political relations between the two countries over the last 68 years since British India's partition. Rather, this film explores human personalities and what is deemed morally right and wrong, irrespective of religion or nationality.
Director Kabir Khan does a splendid job of making sure that the film flows well throughout. A film which is over two and a half hours long, Bajrangi Bhaijaan could have benefited from a few minor edits. However, it is overall a triumph of a story which will melt every person watching it in the cinema hall. This film did not really need any songs and could have done without the lengthy soundtrack. However, It's worth noting that I very much loved the cinematography and sequences used for the songs 'Selfie Le Le Re' and 'Bhar Do Jholi Meri,' the latter having a respectable appearance from singer Adnan Sami.
To my surprise, Salman Khan manages to win me over with Bajrangi Bhaijaan. His performance as the truthful and righteous Pavan is endearing to watch and he manages to bring out a mixed bag of emotions which he executes well throughout the film. In addition, Kareena Kapoor Khan delivers a respectable performance as his love interest Rasika. However, I think her character was limited and it's a shame that she did not appear in the latter and more gripping portions of the film, which could have added a little more spice to it. I also very much appreciated the performance of Nawazuddin Siddique as an amateur news reporter. You have to wait until the second half of the film for Nawazuddin to appear. However, it's worth waiting as he creates a distinguished character who manages to pluck himself in to the intense storyline quite well. High praise is also due for Harshaali Malhotra as the Pakistani girl Shahida (aka Munni), who fits in to her character so perfectly that no one else could have done it better than her.
Bajrangi Bhaijaan will to some extent remind you of elements from the cross-border romantic drama Henna (1991) starring Rishi Kapoor and Zeba. However, nothing major has been extracted from it for use in this film and is thus a well-crafted film in its own right. I am not afraid to admit this, but the final portions of Bajrangi Bhaijaan had me in tears. The same applied to everyone else in the cinema hall, many of whom I saw clearly wiping off their faces towards the end of the film. I never thought I would react that way for a Salman-starrer, which just goes to show that anyone can do almost anything if they put their minds to it. Salman clearly did this and he succeeded in winning me over with Bajrangi Bhaijaan. Hence, this is one of Salman's best works to date and you would be a fool to not include a screening of this film as part of your Eid celebrations!
Overall, if you scrutinise the film as a whole, Bajrangi Bhaijaan is a 3 and a half star film respectively. However, I am giving an extra half a star specifically to Salman Khan. He has surprisingly exceeded expectations with this film and has thereby both produced and starred in a film with a soul and an emotionally charged message for the citizens of two nations who have fought bitterly for so long.