Authors: Bodrul Chaudhury & Stacey Yount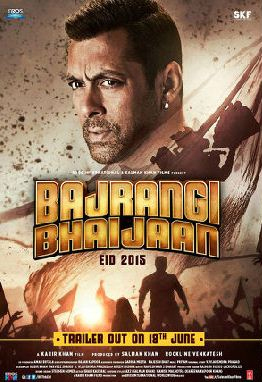 Bajrangi Bhaijaan is the much-talked about action/drama directed by Kabir Khan and is all set for a big Eid release. Starring superstar Salman Khan, Kareena Kapoor Khan, Nawazuddin Siddique and Harshaali Malhotra in the leading roles; the film Is based on the story of a young Pakistani girl who gets lost in India and it is the responsibility of Pavan (Salman Khan) to return her back to her home across the border. The music has been composed by Pritam and KK, with lyrics from Mayur Puri and Kausar Munir. So does the music of Bajrangi Bhaijaan live up to all our expectations? Read our review to see what we thought of it!
So to start off, we have the much talked about number 'Selfie Le Le Re,' sung by Vishal Dadlani, Nakash Aziz, Pritam, KK, with some rap verses by Badshah. Although this one has gained much popularity amongst music lovers, for me personally; it's a song that's right in the middle. It's not a great song, yet not bad either. I do like some of the upbeat techno and bass elements, which helps to give the song a lot of catch. In additions, the vocals are top-notch and flow well throughout. Yet I think there are much better up-tempo Bollywood numbers out there than this one. Therefore, it's an average number which could have been a lot better.
'Chicken Kuk-Doo-Koo' is next and sung by Palak Muchhal and Mohit Chauhan. I did not enjoy this one at all and found it quite silly and immature. It doesn't have that longevity factor to it and it is therefore a track which you will easily forget about soon after the hype surrounding the film is over. Skip this one as it is ultimately a one-time listen.
We also have 'Zindagi Kuch Toh Bata,' by Rahat Fateh Ali Khan and Rekha Bhardwaj. I like how the song opens and both Rahat and Rehka's vocals surprisingly complement each other very well. That was quite unexpected for me but there you have it. The song flows quite nicely and the music has a good mellow quality to it that does stay with you afterwards. I think this is definitely one of the big highlights in the album and we recommend you check it out for its well-composed sounds and the surprisingly good vocals! There is also a Reprise Version by Jubin Nautiyal but I found this one to not be as strong as the original version. It is ultimately a much lighter version of the Rahat-Rekha version and I found this one to not be as catchy in comparison.
There is also the much loved Qawalli number 'Bhar Do Jholi Mein,' sung by the great Adnan Sami. I really enjoyed this song and I love the fact that less commercial types of music like Qawalli numbers can be well used for a major Bollywood film. Adnan sings splendidly throughout and he manages to get the notes right from start to finish. I also like the use of some instruments such as the tabla and the harmonium, which give it a nice classical feel to it. Overall, it is a cool number which deserves your ear's attention. There is also an alternative version sung by Imran Aziz Mian, which is perhaps not as commercial as Adnan's version, yet worth checking out!
'Tu Chahiye' begins so lovely and you think you are in for a great Atif Aslam ballad.  I loved the beginning of this song. Atif is his wonderful singing self. But then… the flavor and beat changes up and although we still get Aslam's melodious tones it feels as if he is fighting the faster dance beat of the track. There is some kind of disconnect between his longing vocals and the almost dance club disco beat. There are also Indian nuances as well as some orchestral lined that also feel very out of place. Or maybe it is the dance beat that hits the wrong notes. Overall the song is mishmash and very confusing, not something I would want to play again but full props to Atif and Pritam for the beginning notes!
We get a very staccato acoustic guitar that begins 'Aaj Ki Party,' which was surprising and very good. This energetic party track then transforms into a full on Mika Singh celebration! He is fabulous – of course. Loved when the music dialed back and we just heard Mika Singh sing. Too good!  I did find the chorus a bit hard on the ear in some parts but those sections are minimal. But how can you go wrong with a Punjabi jam and Mika Singh doing what he does best? You can't!  Got me dancing at my computer, which I imagine looks a bit funny if someone was to see me and not hear the music!
We have three versions of 'Tu Jo Mila' with three different amazing singers adding their notes to the sounds.
KK brings such feeling and power to the lyrics. He is wonderful,  again of course! Love the inflections he adds in to give the song different layers. The music is so gorgeous – simple but at the same time so full. That is one of the things that Pritam does best. I love the addition of the cello in the beginning. Each instrument and note creates music magic.  The music alone would make a perfect track. I really, really, really Love this version. Musically this is my favorite of the three versions. Add in KK and you have music goodness that definitely will be added to your Best Bollywood Song Playlists.
Javed Ali's version is titled 'Tu Jo Mila – Dekhna Na Mudke.' This one had more of a country as in country and western flavor to the music with the slide guitar and the faster beat. Javed Ali does well but in parts his whispery tone seems to get lost a bit within the driving beat of this version. He is wonderful when it is just him a cappella or with soft music in the background. Of the three this is my least favorite, but it still is both musically and vocally a pretty good song but you wonder why is it needed.
Papon's rendition is awesome. He brings such emotion and really imbibes the music. He is the music instead of his vocal lying on top. That is one his best qualities as a singer. However, the music falls short in parts. I did not like the two musical breaks at all. They did not fit and completely broke the mood. That may be fixed because of what we will be seeing on screen but we will have to see. I just want to get lost in Papon's singing backed up by the full of sound melody.
In the end the music of Bajrangi Bhaijaan is quite good but it is not a showstopper either. We  do think they will all play very well within the context of the movie. Of the 11 tracks you must check out the two versions of 'Tu Jo Mila' by KK and Papon as well as 'Zindagi Kuch Toh Bata' and the two versions of 'Bhar Do Jholi Mein.'