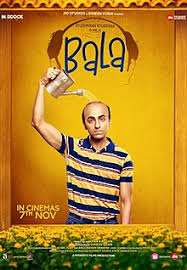 Ayushmann Khurrana can only be spoken of in glowing terms as he has made his name on the back of innovative but comprehensible characters, who seem to roam through a movie in the same way as audiences do in real life. As the plots and the quirks are so relatable, its easy for cinemagoers to find something to keep for themselves. Take the new film Bala, Ayushmann's third film of this year after the hard-hitting Article 15 and the dreamy Dream Girl, a film about the simple problem for many men around the world: baldness. No doubt this is going to be a love story that involves the dreaded wig, an accessory used to hide a shame that comes from something perfectly natural. To back this up will be a stirring soundtrack, provided this time by Sachin-Jigar; 5 songs over 15 minutes will keep it short and punchy thus allowing it to give a bit of distraction where needed.
The album starts with Baadshah, Shalmali Kholgade and Gurdeep Mehendi breaking out what looks like an ending song in Don't Be Shy Again. Upbeat club music, plenty of dance moves on show and effectively an English song with an Indian accent. The pattern of 2019's albums however shows itself in the only Indian line "Sanu kare ishare" in the chorus, which is a reference to the song that this piece is lifted from. Depending on perspective, this song could be from Dr Zeus's Don't be Shy (2013), its film cousin Kangana Tera Ni (Char Din Ki Chandni – 2011) or their originating early-R&B hit Kangna Tera Ni (2010). To be fair no one is trying to hide this with the 'Again' in the title and maybe this will bring Dr Zeus some plaudits with a new album in the works.
Harry Sandhu is not about to miss out on this chance either with a reworking of his Punjabi dance hit Naah Goriye that's next on this album. B Praak and Swasti Mehul add to the original, which its worth remembering was only from 2016 and made the Best Punjabi Songs of that year album. Certainly, the addition of a female voice does lend it a new voice of sorts with its Spanish rhythms getting a rounded feel and the story seeming to take on a conversation rather than the one-sided tale of the original.
Time for some seriousness in Pyaar Toh Tha. This has Jubin Nautiyal and Asees Kaur belting out the saddest of tunes. Minimal orchestration with improvised drum and acoustic guitar, with a tuned violin for the bridges, this is bare bones, heart-exposed tissue-wielding sadness. Just to make sure no one loses themselves in a bucket of tears 1 minute before the end the song suddenly breaks out a power ballad rock beat just for a few seconds. Like a lot of these songs its mostly male-based with a female perspective given towards the end of the piece, though, so there isn't much to set this aside from several recent songs.
With the first two songs being opening and ending respectively, there's space for an item number in between and thus the next song is Tequila. While this isn't a remake, lift or copy, there is some influence taken from the famous song that this takes its title from. But outside of that, its halfway between jazz piece and wedding song… maybe counting the chickens before they hatch. Its almost lucky this song is only 2:41 as it really doesn't have anything going on throughout the song; even the lyrics seem to just disappear into themselves.
The album finishes with a reflective song Zindagi by pop singer Papon. Again, not much for instrumentation, with the singer being given full rein over the song. However, the instrumentation must not be ignored altogether as this song is almost the longest of the whole album, so its worth listening out for the flourishes of piano in between the constant improvised drum and acoustic guitar combination from earlier. There is a nice touch with the reverb to give the far away feeling that remembering one's childhood deserves to have.
Bala is a real-life story for a lot of men around the world. The sudden loss of hair on the head, especially before the man has settled down makes finding love and a life partner difficult due to societal stereotypes and attitudes. The album to this film is similarly struggling to play to stereotypes, having 3 fun songs, a reflection and the inevitable tears when hidden truths are discovered. But since they are short and may have little actual part to play in the film, they are like the wig that is being lifted in the theatrical poster for this film: makes everything polished when on, but just looking for an excuse to come off and leave things bare.