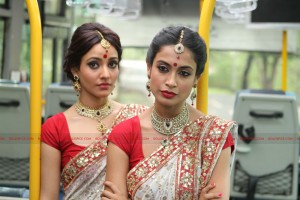 There have been reports that filmmaker Sanjay Leela Bhansali is miffed with the spoofs on Devdas in Kyaa Super Kool Hain Hum.
The film features a scene where Tusshar is dressed as Devdas and Neha Sharma and Sarah-Jane Dias as Chandramukhi and Paro respectively. It is believed that the ladies make a remark about battery-operated sex toys available in the market when Tusshar's character tries to convince Neha's about falling for him instead of Sarah.
Bhansali had been upset previously when Rohit Shetty had made fun of him in his Golmaal series.
Producer Ekta Kapoor clarifies, "A spoof is the best form of flattery. We've spoofed as many as five films including The Dirty Picture. Everyone knows that the spoofs are in a light vein. There is no personal dig and I don't think Sanjay will be upset."