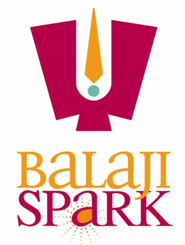 Balaji Motion Pictures Ltd. (BMPL), the films division of Balaji Telefilms Ltd. (BTL), today announced the launch of its talent management arm, Balaji Spark. A talent management firm focused towards identifying and managing exceptional new talent, Spark will represent both on-screen and directorial talent discovered and launched by BMPL and BTL in films and television respectively.
The firm will be headed by Firoz Engineer, an industry veteran who has more than 15 years of experience across entertainment, digital & technology domains. Engineer will report to Tanuj Garg, CEO – BMPL.
Spark has already signed promising young on-screen talent like Rajat Tokas & Paridhi Sharma – the lead pair of the newly launched mega historical drama, Jodha Akbar, on Zee TV.
Siddharth Gupta and Ashish Juneja, who headline Balaji and Bejoy Nambiar's forthcoming comedy, Kuku Mathur Ki Jhand Ho Gayi, will also be managed by Balaji Spark.
Akshay Roy, the debutant director of the untitled Dharma – Balaji film, one of the biggest collaborations of recent times, featuring Emraan Hashmi & Kareena Kapoor, will also be care – taken by Balaji Spark.
The business affairs of Ekta Kapoor will also be looked after by Balaji Spark. Ekta makes for the division's most high-powered celebrity member.
Over the years, Balaji has been instrumental in growing household names such as Smriti Malhotra-Irani, Sakshi Tanwar, Ram Kapoor, Prachi Desai, Rajeev Khandelwal, Shweta Tiwari, Sushant Singh Rajput, Ronit Roy, Hiten Tejwani, and Urvashi Dholakia, among many others, to an iconic status. The talent bank managed by Balaji Spark will have priority access to the parent company's film and television projects, in addition to deriving access to external makers and agencies with whom there are existing relationships.
Said Tanuj Garg, CEO – BMPL, "The Balaji brand is synonymous with high-quality content in television and films. Extending our image of being a magnet for talent, we have created Balaji Spark, a division that will propel the talent launched by us, into stardom. We are best equipped to manage the affairs of leading and upcoming entertainment talent, as we not only work with most of them regularly but also have a firm handle on the rigors and nature of their work."
Spark will work with its artists to recognize the right opportunities for them in terms of grooming, image management, brand & cause endorsements, performances and appearances on various shows and events. In addition, it will scout promising talent for the industry, groom them and help find projects, which are best fit for them.
Firoz Engineer, Business Head – Balaji Spark, said, "At Spark our aim is to move beyond a transactional approach to talent management and to be embedded in the process of growth of the talent. BMPL itself provides a strong ecosystem for any talent to seed and grow. We are looking to create lasting IPs by nurturing this talent that we discover and help grow. The proposition for brand partners too becomes exciting as we offer a single-window approach to creating entertainment-led associations; from tapping into a talent pool at early stage to engaging with their movies, shows and social media platforms as the talent impact grows."