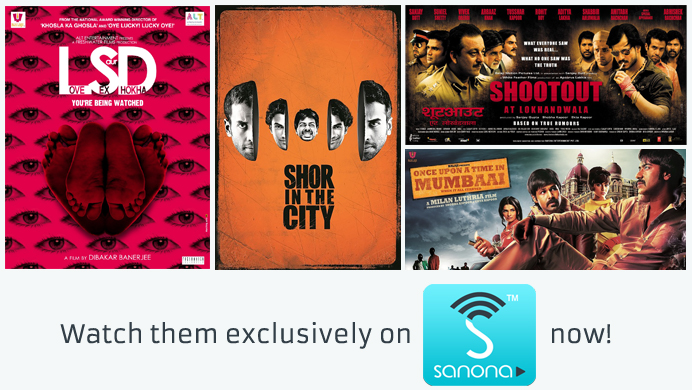 Sanona™, the UK's largest online Pay Per View Indian movie service, brings you even more top movies by partnering up with Balaji Motion Pictures, another one of India's major film studios.
Sanona has exclusive UK & Ireland rights to four of Balaji's most popular titles this  January; Love Sex Aur Dhokha, Once Upon A Time in Mumbaai, Shor In The City and Shootout At Lokhandwala.
Love Sex Aur Dhokha and Shor In The City are what the new urban India is about, a fresh approach to creativity and films to make us think. This new strain of independent movies shows that filmmaking in India is becoming exciting and edgy.
Bringing a fresh treatment to the 'masala' movies that we watch for escapism, Once Upon A Time in Mumbaai and Shootout At Lokhandwala dare to delve into Mumbai's murky underworld and recreate real life events and controversial characters. Featuring many of Hindi cinema's most famous faces, the films' box office success has spawned soon to be released sequels.
Love Sex Aur Dhoka
Never released theatrically in UK, Sanona is proud to host the UK premiere Love Sex Aur Dhokha (LSD). Shot entirely on DigiCam, LSD has that edgy look to accompany a great script set to shock and beguile.  The film takes three separate stories and weaves them together in an intricate fashion; a rookie filmmaker shooting a low budget movie, a supermarket supervisor planning an underhanded money making scheme and an investigative reporter planning a sting operation on a music star are the focus of the shocking plots.
Controversial, racy and real, LSD gives you the rush expected from the aphrodisiac.  The movie's cult following pushed its maverick director, Dibarkar Banerjee, into the limelight and has seen him go on to secure major Bollywood movie deals.
http://www.sanona.com/movie/Love-Sex-Aur-Dhokha
Once Upon a Time in Mumbai
The sequel to Once Upon A Time in Mumbaai is due this year so what perfect time to catch this gritty look at 1970's Mumbai's underworld. Hugely popular, the retro gangster flick saw Ajay Devgn and Emraan Hashmi surge to a wave of popularity. Devgn plays a powerful smuggler who has to deal with romance and rivalry against his protégé, portrayed brilliantly by Hashmi.
Seen through the eyes of a crime branch police officer (Randeep Hooda), Once Upon A Time in Mumbaai traces the changing face of the Mumbai underworld and how it all started. The film is presented in a retro chic style and is a glamorous rewind to the golden era.
Said to be loosely based on the lives of real-life gangsters Haji Mastan and Dawood Ibrahim, Once Upon A Time in Mumbaai offers a plot thick with contract killings, drug peddling and extortion rackets.  Besides the superb soundtrack, expect captivating performances by Kangana Renaut and Prachi Desai as the main love interests.
http://www.sanona.com/movie/Once-Upon-A-Time-In-Mumbaai
Shootout At Lokhandwala
Another look at the underworld, the police and criminals have always been a major feature in Bollywood productions. One film where both sides of the law go head-to-head but neither come out on top is Apoorva Lakhia's multi-starrer, Shootout At Lokhandwala.
The slick crime thriller is a shocking, hypnotic look at an infamous real life gun battle that ensued in 1991 between Indian police and underworld criminals that became the most talked about daylight encounters, transforming suburban Mumbai into a virtual war zone.
Vivek Oberoi and Tusshar Kapoor head a group of trigger-happy gangsters and aides of notorious underworld don, Dawood Ibrahim, while Sanjay Dutt plays ACP Shamsher Khan, the founder of a specially formed Anti-Terrorist Squad out to hunt them down.
A complex, violent story with appearances by Amitabh Bachchan, Abhishek Bachchan, Amrita Singh, Neha Dhupia and many other famous names, Shootout At Lokhandwala boast some of the most riveting action sequences to be ever filmed in Hindi cinema. Expect plenty of blood, sweat and tears.
The sequel, Shootout at Wadala, hits the big screens this May so what better time to catch this original.
http://www.sanona.com/movie/Shootout-At-Lokhandwala
Shor in The City
From the producer of Love Sex Aur Dhokha, comes Shor In The City, an edgy, trippy, and unabashedly entertaining film, lauded at New York, Pusan, and Dubai Film Festivals. Sendhil Ramamurthy of hit US show 'Heroes' fame, stars as an NRI who is forced to come to terms with being alone in Mumbai, and seeks refuge in the winsome Sharmili (Preeti Desai – former Miss England.)
Elsewhere in the city Tilak (Tushaar Kapoor), a bootlegger and petty scam merchant happens upon  some rare loot on a local train. With his bold and carefree buddies, Ramesh (Nikhil Dwivedi) and Mandook (Pitobash Tripathi in tow they are heading towards a dangerous and exciting experience.
Another great look into Mumbai, an overcrowded, unwelcoming city with no rules or time to stop and think, and where the need to survive and succeed takes precedence for the players.  Don't miss this comic take on the chaos of India's maximum city.
http://www.sanona.com/movie/Shor-In-The-City