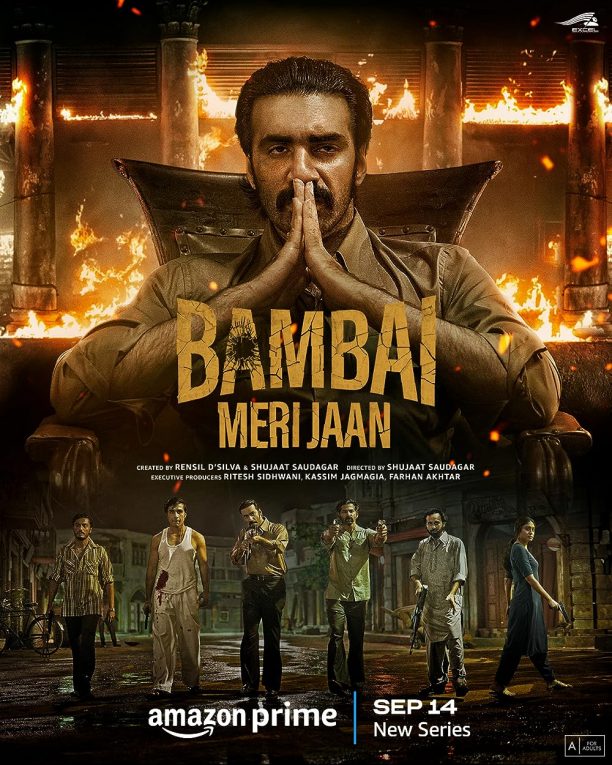 Bambai Meri Jaan (Prime Video, 10 Episodes)
Starring Kay Kay Menon, Avinash Tiwary, Kritika Kamra, Nivedita Bhattacharya, Amyra Dastur
Directed by Shujaat Saudagar
One thing about the enduring interest in lives of smugglers and gangsters: they provided a lot of employment to Mumbai's population back in the 1960s, 70s and 80s when they were active; they continue to provide employment to actors and technicians who are part of these never-ending sanguinary sagas of nebulous loyalties and sticky alliances.
Bambai Meri Jaan based on S. Hussain Zaidi's Dongri to Dubai: Six Decades of the Mumbai Mafia is a slowburn crime thriller with criminal characters trapped in a sordid system that fosters treachery. At a running time of almost ten hours, it gives us a lot of time to think for an answer to that ultimate crime conundrum: does crime pay? How much did Excel Entertainment make out of this deal. By the way?
For a lengthy narrative space, the criminals in Bambai Meri Jaan seem to be doing very well for themselves. Back then in the 1970s , gangsters were known as smugglers in Mumbai. Haji Mastan who made a pivotal appearance in Yash Chopra's Deewaar and later Milan Luthria's Once Upon A Time In Mumbai, is here played by Saurabh Sachdeva, who is happily typecast as dark villainish characters. His Haji Mastan is seen as a benevolent crimelord who repeatedly saves an honest but suspended cop Ismail Kadri(K K Menon) from the wrath of Sultan(Jay Singh Rajpoot) who is vicious and sadistic and vengeful.
So let's get this straight. There is the Benevolent Don and the Venomous Don. And then there is cop-turned-gangster's-accomplice-turned-freelance-ideologue Ismail Kadri, played by that very fine actor K K Menon who for once seems unable to find a moral centre to his ambiguous character.
It isn't Menon's fault. It is the way the wheels move in this crime drama where the moral compass moves crazily. Ismail is lost in the bloodsoaked bedlam. Is he a good guy forced to turn almost-bad before regaining lost ground?
The moral crisis deepens with Kadir's elder son Dara(Avinash Tiwary) whom we are supposed to actually like in spite of his habit of bludgeoning his enemies heads to a battered pulp just before wolfing down biryani at Eid and other get-togethers.
Speaking of food, that very fine actress Nivedita Bhattacharya who plays Ismail wife and Dara's mother spends most of time in the ten episodes serving food to her thankless family.
Like or loathe them, these are characters who represent a small but crucial chunk of Mumbai's population at a time when crime was considered fashionable. Blood spilt was the cool of the 1970s and 80s, and criminals chain-smoked without getting cancer.
It is a fuzzy fearsome world ably created by director Shujaat Saudagar and his art director. The editing is charitable to the goon gore so much so that the fare sometimes feel like an insouciant bloodfest. The cinematography(Midhun Chandran) captures Mumbai's violent nightlife in tones that are at once numbing and nostalgic. Miraculously even on the home medium, one can see the characters' clandestine activities during the night time. That's pretty much what this series does: it lights up the familiar feral rites of gangsterism with a style and panache. But please, no more of this glorification of gangsterism.