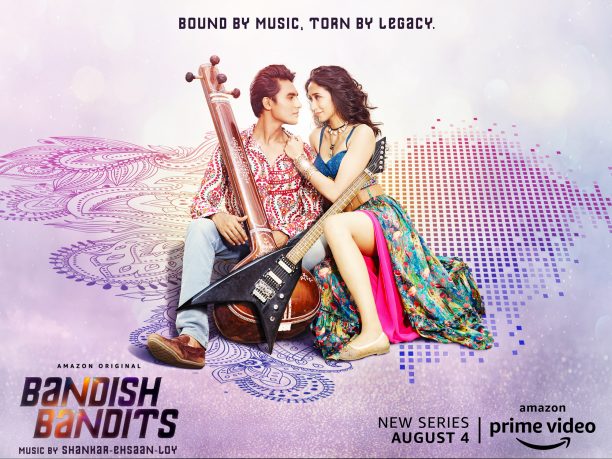 The musical drama series, Bandish Bandits, began streaming August 4th on Amazon Prime. Directed by Anand Tiwari, the 10 episode Amazon Original Series, set in Jodhpur, tells the tale of two young musicians, hailing from contrasting backgrounds. Bandish Bandits follows the story of Radhe, a singing prodigy determined to follow in the classical footsteps of his grandfather, and Tamanna, a rising pop sensation desperate to become India's first international pop-star.
When I first read the synopsis of Bandish Bandits, I was very intrigued and knew I wanted to see this series. It was even better than I imagined! I am, of course, a huge Bollywood fan and for me, Bandish Bandits is such a Bollywood-esque story. The series features 30 to 50-minute episodes, which clocks in at about 7-ish hours – I was all in for it and in fact, I would have watched even more.
The director crafted the series so well. The story had drama, romance, twists and turns, and so much more. With each episode, I could not wait to see what happens. One of the best things is that the story developed and gained even more intensity throughout the series. Some fabulous performances made the story and emotions come alive, but more on that later.
The magnificent music of Bandish Bandits is the soul of the film. Composers Shankar Mahadevan, Ehsaan Noorani, and Loy Mendosa aka SEL created so many outstanding musical moments. I can't praise it enough. I am a fan of Hindi film music but also have loved the classical Hindustani music and Qawwali I have heard – it has always spoken to me. This series is all about classical sangeet and gaana. The classic sounds and the classical pieces with tabla, sitar, as well as the pakhavaj and sarangi are musically impeccable. The compositions were the perfect musical story for this series. Like so many Hindi soundtracks, the music plays and sings even more within the context – so just listen to it within the story. I loved it from the first note and kept on getting lost in the majesty of the soundtrack until the music faded out in the last episode. Bravo, Wah, and Taaliyaan.
The singers, whether the story called for the characters to struggle or shine, especially the shine in their pieces, were absolutely brilliant as well. The numerous tracks and small moments featured singers including Shankar Mahadevan, Shivam Mahadevan, Javed Ali, Armaan Malik, and Jonita Gandhi. The classical vocals feature Farid Hasan, Mohammed Aman, Pratibha Singh Baghel, and especially PT Ajoy Chakraborty. They all were phenomenal, exceptional, and many more adjectives of praise.
Naseeruddin Shah is, of course, one of India's finest actors and is always brilliant in whatever role and genre of movie he is a part of. As Pandit Radhemohan Rathore, he proves that once again. I think it is one of his best performances. So many quiet moments – you can see all he is feeling just by the look in his eyes. Superb.
The rest of the family, which includes Sheeba Chaddha (Mohini), Rajesh Tailang (Rajendra), Amit Mistry (Devendra – a favorite) are also impressive. You never feel anyone is acting, they are fully the characters. Also, mention must be given to Atul Kulkarni (Digvijay).
Shout-out to Kunal Roy Kapur as Arghya who was so good as the comic foil with the wicked lines and jokes he made – he owned them fully. Then when he became more serious – he was heartfelt and so, so excellent. Radhe's friend, Kabir (Rahul Kumar) was also perfectly cast. Both actors were always in character and hit all the right notes, even if they did not sing.
Ritwik Bhowmik as Radhe was fine. He had some bright moments but I always felt he was playing Radhe and not truly being Radhe. His performance got better and by episode 8 or so, the story with no spoilers had many revelations – he was great in those moments. Shreya Chaudhary as Tamanna, started off a bit shaky and was not truly realized as a character, but as the series went on she became more her role. However, I never felt a spark, romance, or passion between the two. It never felt real. With both actors, there is talent and I believe they will develop and we will see them come into their own. I can't wait to see what they do next.
The cinematography was beautiful throughout and the locations in Rajasthan and Jodhpur including the incredible Mehrangarh Fort, the Ghanta Ghar, and the stunning Stepwell as well as other locations brought more to the story's world.
One of the main problems is that I was sometimes was taken out of the world because I did not really like any of the characters except for Amit Mistry's Devendra. Again, I can't spoil if they went through a change but it did get better.
Many dilemmas within the story were resolved way, way too quickly – even though this was a 10 episode series. This may have come down to editing but it is a testament that I wanted to see more.
There was one storyline that completely stuck out to me. I won't spoil who, but it basically had to do with revenge porn. The storyline did not have the weight and importance it should have had. It felt like it was just a plot device. I wish it was addressed more deeply, especially the woman's feelings if they were going to include it within the story.
Oh… the Krrish-ish mask – there is even a joke about him trying to be a superhero. So wrong, they could have done better.
When the actors, especially Radhe and Digvijay are singing… they do not look like they are truly singing. There are too many hand movements and a big point is you do not see them take breaths. However, Atul Kulkarni as Digvijay seems to feel the music more, especially when he is singing a love song. To whom… well, you will have to wait and watch.
As I was watching episode 4, someone who does watch Hindi films with me occasionally, but does not have full knowledge of Hindi film and especially Indian classical music stopped, started watching, and kept watching. I had to explain what happened so far and he wanted to finish that episode and then said he wanted to see it from the beginning to experience the whole story. So this is not just for Indian film fans, or Indian music fans – it is something everyone will enjoy.
I have to repeat because it bears repeating, though the story of Bandish Bandits made you want to keep going to the finale, it is the incredible music that makes the series. It adds that depth and note-perfect musical essence that makes you want more. Without it, notably the Indian classical tracks, Bandish Bandits would not nearly be as good. Standing ovation.
I highly recommend Bandish Bandits! I had a hard time rating this series, but in the end, since I could not wait to see the story come alive again and especially hear and experience the music again and again I am going with 4.
Be sure to check this series out!
Mr. Anand Tiwari and Amazon Prime Series I hope there will be a second series of Bandish Bandits because I want and cannot wait to see more of this story!
ICYMI