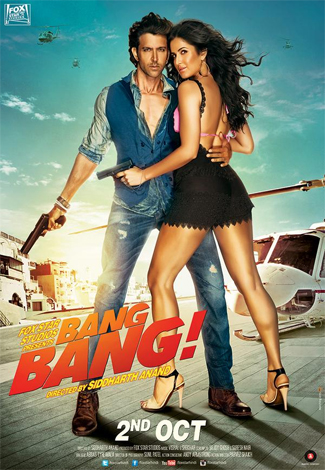 Bang Bang is no doubt one of the most highly anticipated action films of the year. A remake of the Hollywood film 'Knight and Day', the film stars superstars Hrithik Roshan and Katrina Kaif in the leading roles and promises to be an exhilarating adventure full of stunts, action and romance. Directed by Siddharth Raj Anand, Bang Bang releases in cinemas worldwide on 2 October 2014 and has already received an overwhelming response based on its trailer and promos. The music to the film has been composed by Vishal-Shekhar, who have both composed albums like Om Shanti Om (2007), Chennai Express (2013) and Hasee Toh Phasee (2014). So does the music to Bang Bang meet everyone's expectations? Read our review to see what we thought of it!
First up is the soulful Meherbaan, which has been performed by the talented Shilpa Rao, as well as Ash King and Shekhar Ravjani. I would consider this to be my favourite song in the album and it has been flawlessly composed by Vishal-Shekhar. I especially love the use of the guitar, as well as Shilpa's vocals which give it that overall silky feel to it. Praise is also due to lyricist Anvita Dutt Guptan, who has penned some lovely words which helps to sustain the theme of the song. There is also a reprise version sung by Shekhar, which is not as gripping to listen to, in comparison to the original version. This is not really to do with Shekhar's voice, but more so the music, which is largely taken out in this version. I definitely recommend you give the original version of 'Meherbaan' a listen as it is definitely one of the best romantic songs of 2014!
Next up is Tu Meri by Vishal Dadlani. This is another one of my favourites and the up-tempo composition just makes you want to get up and dance to it. I love the use of bass in this song, as it gives it a cool, but subtle, intensity to it that perhaps explains why it is so incredibly catchy. Vishal sings it well from beginning to end and I think his voice complements well with the musical arrangement. I also love the picturization to this song and both Hrithik and Katrina create some mesmerizing chemistry that just makes it hard for you to take your eyes off them! If 'Meherbaan' is one of the best romantic songs of the year, then 'Tu Meri' is by far one of the best dance numbers of the year!
We also have Uff sung by the wonderful Harshdeep Kaur and the talented Benny Dayal. I love the fast paced rhythm which this song has and it easily gets your attention. The music has a nice blend of contemporary sounds such as the guitar, harmonium and the drums, with some bass elements giving a nice overall touch to it. Though I enjoyed Benny's voice very much, the standout performer is definitely Harshdeep who gets the vocals just right and melts well in to the composition. I think this song is definitely another highlight that is worth checking out!
Finally there is the title track Bang Bang by Benny Dayal and the great Neeti Mohan. The song has some groovy disco sounds that make you feel as if you have been transported back in to the 1980s. Though the song has been respectably composed, it is certainly not the best track in the album. However, having said this; I think due credit goes to Benny, who performs very well and does justice to this upbeat number. You almost forget about the imperfections which this song has because of his remarkable voice.
To sum up, I would classify the music to Bang Bang as one of the major highlights of this year. Both Vishal-Shekhar have done an astonishing job with this album and it contains songs that will appeal to various demographics. It's nice to know that in the last quarter of 2014, we have been blessed with an album that is oozing with nice contemporary sounds that will remain timeless in the years to come! Hopefully the film will be just as exciting as its music when it releases on 2 October!