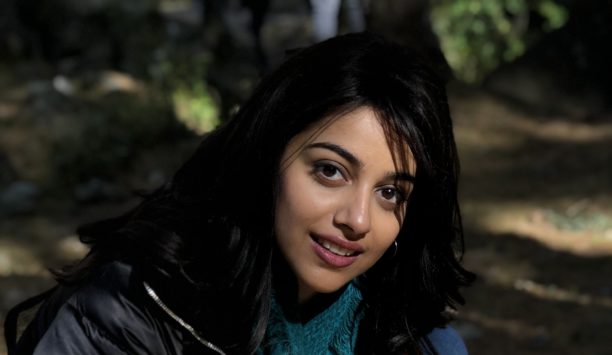 Banita Sandhu is set to make her Bollywood debut in the emotionally charged film, October, directed by Shoojit Sircar and starring Varun Dhawan that will have your hearts racing and tears flowing.
Interestingly, the 20-year-old actress earlier worked with director on a commercial for Doublemint's "Ek Ajnabee Haseena Se" song. The entire song in the ad depicts love but only with expressions and this, plus her work ethic, led Shoojit Sircar to cast Banita in the role in October.
Shoojit Sircar shares, "I wanted a girl who looked Shiuli, who looked a little South Indian and also whose eye would speak a lot."
While we have heard a lot about Varun Dhawan's character in the film, there is little that has been revealed about Banita's role, which has only made us more curious to watch her in the film.
Just like Varun Dhawan, the actress will be seen playing a hotel management student with a very complex yet charismatic relationship with the actor. The actress with her performance, has already got people close to the film praising her hard work.
Varun Dhawan shares, "Banita is a selfless actress and so giving in scenes. The type of work she has put in for her first film is unbelievable."
Ronnie Lahiri, the producer of the film adds, "It's a very important role. For me it is one of the best debut that anyone has done."
Shoojit Sircar further opines that, "The most hard work done by someone in the film is actually this girl Banita."
Banita is from Wales and lives in London finishing her degree who at King's College University so to make sure she fully became the character and spoke without an accent she hired a Hindi tutor, "The film was offered to me a year before it was shot so I hired a Hindi tutor. I was learning the language along with my normal university classes. Learning a language like Hindi, when you live in London and people around you speak in English, it is very hard to pick it up."
The actress apparently shared this problem with the director, Shoojit Sircar who helped her improve her diction further by training her through video calls. According to her, the accent was the key aspect and she wanted to learn the Indian accent which Shoojit helped her get pitch perfect.
With so much praises doing rounds for Banita, we are all looking forward to watch her in the film.
As a teaser meet Shiuli

Produced by Ronnie Lahiri and Sheel Kumar, October stars Varun Dhawan and Banita Sandhu. A Rising Sun Films Production, directed by Shoojit Sircar the film is set to release on 13th April 2018.