Best known for pioneering the use of disco music in Bollywood films, composer Bappi Lahiri has contributed to some of the biggest films in Hindi cinema. The music director has also been sought after to do several prestigious international projects. His latest compositions are for the Indo-American film titled Will to Live. He has created quite an eclectic mix of songs for the film, including a track with Asha Bhosle singing in English and he also has teamed up with MC Hammer for one of the songs in the film.
Will to Live produced by Amrit Das is an Indo-American production shot in both California and India. The film is inspired by a true story based on the fight of a father for his son, who is dying from Cancer. The American father travels to the jungles of the Himalayas to embark on an adventurous journey to find a rare herb that may cure his son's Cancer. The story shows the father battling the depths of the jungles, greed, power, and corruption, risking his life in order to save his son. Will to Live shows how far a father will go to save his child's life, and explores the intensity of a father's love.
Read on as Bappi Lahiri talks to BollySpice about the songs of Will to Live, working with international rapper MC Hammer and what we will hear from him next.
Tell us something about your project Will to Live.
It is an international project and is inspired from a real life story. Producer Amrit Das had approached me to do the music because he wanted a genuine fusion of Indian and western music. We have been able to achieve that. Besides a mix of lyrics, even the music has an honest mix of both the worlds.
What is a contribution of M.C Hammer to the music of this film?
MC has worked with the late King of Pop Michael Jackson and now I've got him to sing for this Indo American production. The track is called 'I got the music,' with lyrics written by MC and the hook line is by me. We had so much of fun while recording it. I have also given some alaaps in the middle of the song.
Did you know M C Hammer even before this project?
I have a friend in San Francisco who is in good relation with MC and that's how we got in touch. It was an amazing experience to sing with him. My God, what memory he has! He's the fastest rapper I've come across. MC is a nice person, a good human.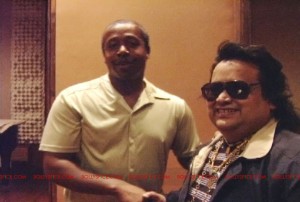 You had said that you are bringing MC to India?
Yes, we were planning but some things did not work out. There are so many things to take care—visa, venues, permissions. We may bring him in next year.
You are always experimenting in your music, especially with yours collaborations with Hollywood composers…
Yes!!! You can say this…In India, Bappi Lahiri brought musicians like Samantha Fox, Boy George, Apache Indian and now MC Hammer! And now Jennifer Lopez has brought back the Lambada tune in her song 'On the floor', that I had used in 1992 with Ghayal. I am proud to say that my music is always ahead of its time.
We heard that Asha Bhosle has sung an English song in this project?
Asha didi's title song starts with a shloka from the Gita and she's sung it beautifully in English, while its Hindi versions are sung by Sunidhi and Sharon. I have experimented a lot with this film.
What are your next projects now?
I am acting as the owner of three pubs in the feature film Its Rocking Darde Disco, directed by Asho Tyagi. I am also composing its music. My 'Tera Diwana', starring Govinda and Priyanka Chopra will also release this year. There is Spaghetti, a film that stars Mithun Chakroborty and his son Maha Akshay.
Will to Live is set to release in cinemas on August 12th 2011.