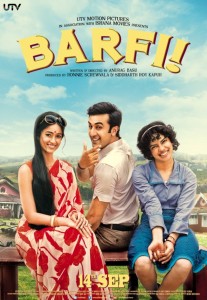 Anurag Basu's Barfi! is continuing to enjoy success at a very overwhelming level. It has been confirmed by trade experts and the media that in just ten days after its release, the Ranbir Kapoor and Priyanka Chopra starrer has amassed 100 Cr worldwide and still counting! This is definitely another massive achievement for the film, especially as it was just recently announced that 'Barfi!' has been chosen as India's official submission for next year's Oscars.
It is most likely that the numerous positive reviews made towards the film by critics, as well as the fact that it was very well promoted, were contributing factors towards people's decision to go and see it. According to reports, Barfi! has so far collected around 82.55 cr at the Indian box office. This is a phenomenal achievement, especially since it had a limited release in India. To add the overseas box office collections to the domestic figure would total to over 100 Cr. Yet the film is still being screened and we will not know the final total for a while. However, everyone who was a part of this project can relish in the fact that their hard work has certainly paid off!
Barfi! is still in cinemas, so you still have the opportunity to see it if you want to know what all the fuss is about!