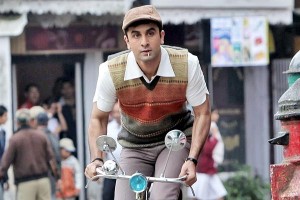 If you liked Ranbir Kapoor in Rockstar, the chances of your liking him in Barfi! are pretty high. The Anurag Basu film which has the actor paired opposite the controversial 'Desi Girl' babe Priyanka Chopra reportedly gives Ranbir a very good opportunity to showcase his acting skills and if sources are to be believed, Ranbir has made very good use of the op­portunity.
Ranbir who was earlier con­demned for choosing an off-beat subject so early in his career proved everyone wrong with Rockstar. The same is being said about Barfi!. All those who had criticised him for picking the film seemed to realise that it might not be a wrong deci­sion given how he rocked in Rock­star.
The is said to have traces of Chaplinesque humour as well as tragedy and Ileana D'Cruz is also re­ported to have delivered a classic performance in the movie.