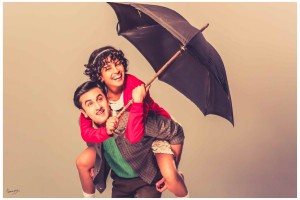 While these days it's the Southern influence that seems to rule the Box Office, the excellent first weekend of Anurag Basu's Barfi!, with Ranbir Kapoor, Priyanka Chopra and Ileana D'Cruz in the main leads, shows that a film with a heart will rule many hearts.
The film released on 1300 screens in less than 700 cinema halls across India (which is a small release compared to Ek Tha Tiger, which released on nearly 3500 screens) and made at a budget of 30 crore, the film has earned 34 crore in it's opening weekend. The film made 9.20 crore on its opening day, 11.50 on Saturday and 13.5 crore on Sunday.
Overseas the film did very well and made over Rs 2 million, making it Ranbir's highest grosser overseas, ahead of Raajneeti and Rockstar.
Barfi! has left critics and audiences speechless. Social networks are overloaded with praise for the whole team behind Barfi!. Not only are people praising the story, cinematography and direction, also all three performances were appreciated unanimously.
Producer Siddharth Roy Kapur is "completely overwhelmed" by the response to the film.
"These are the moments that filmmakers, artists, technicians and producers live for. The love and appreciation that is being showered on the film from audiences and critics in India and around the world is unprecedented," said Kapur.
He added: "It's a big moment for Anurag, the cast, the crew, and for all of us at Disney UTV. This is a film we have supported and nurtured from its very inception, and it gives us a tremendous sense of satisfaction to have our creative instincts backed by the audience."
Barfi! has also been widely appreciated by the film fraternity. Director Karan Johar has gone on record saying that Basu's "genius" makes him feel "talentless". With Amitabh Bachchan tweeting, "Ranbir Kapoor a masterful brilliant performance .. Priyanka, simply unbelievable, and Anurag Basu's extraordinary making .. Indian Cinema, its films, directors, actors, technicians going through a magical phase of a change over .. such exciting times !!"
For all movie lovers, this is one film you definitely don't want to miss. Barfi!, a rollercoaster ride filled with emotions will leave you teary-eyed but with a smile on your face.
Be sure to check out our review and interviews with both Ranbir and Priyanka!