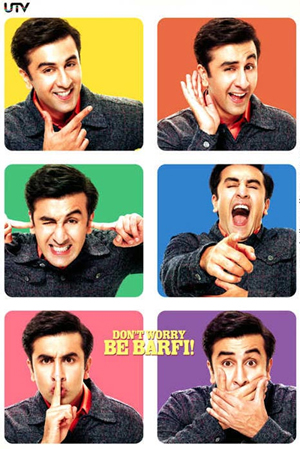 Starring Ranbir Kapoor, Priyanka Chopra and Ileana D'Cruz, Anurag Basu's Barfi! has captured the imagination and the interest of the fans of Bollywood the world over. I have to admit that this is the film that tops my list of movies I really truly cannot wait to see. In the film Ranbir instead of just playing has become Barfi, a charming and mischievous deaf/mute, who has the feel of Charlie Chaplain's characters and Rowan Atkinson's Mr. Bean, but of course is his own cute, crazy, sweet self. Priyanka Chopra, in what seems to be a fabulous performance if the trailer is anything to go by, is Jhilmil an autistic woman who is Barfi's friend… Also in the cast of characters is Shruti played by Ileana D'Cruz who Barfi falls for but doe she fall for him? Shruti narrates this heartwarming tale of selfless love and about finding happiness in the smallest things in life which opens on September 14th.
After hearing the lovely music that played in the background of the fabulous Barfi! trailer I could not wait to hear the music for the film. Unfortunately that gorgeous instrumental is not on the album, but music director Pritam surprised me even more once I sat down to listen to the eight captivating tracks. Pritam certainly is trying out some new flavors to tell this tale and it so works. Let's take a look at the sounds of Barfi!
Now usually whistling in a song really gets on my last nerve, but starting off the title track Barfi, it actually set the mood perfectly for the quirky song that was to come. You hear Mohit Chauhan in a totally different avatar than his full on rocker. This is just a light, bright song with some great instrumentation. Not at all what I expected, but I don't think Barfi! is going to be anything we are going to expect either. I loved the middle stanza with the guitars backing up Mohit's energetic, fun inflection. The music is very stylized and I really can't set it to one genre because I feel that Pritam has taken in lots of influences – in a good way. For some reason I thought of Hawaii but maybe that is just me…anyway it is a great, chirpy track you should check out.
There is also a second version sung by lyricist Swanand Kirkire titled Ala Barfi. It has the same quirky music, but he has a different inflection with a little bit of a rougher tone. Not so "sung" as Mohit's version and so that gives the song a different feel. In some sections, this is more pared down musically and more percussive but then in others it is more revved up with the addition of some cool musical sections that added to the funky sound. It is cheekier, I think, is all I can say and I enjoyed his rendition too. 'Barfi' and 'Ala Barfi' are probably not songs you will put on replay, but I think once seen in the film you will say 'Ooooh okayyyy! Now I get it'. Then certainly you will find later that you will be sitting searching the Internet or editing an article and all of a sudden you will start singing oooohwayyyyyy. (Not that I did that). I see this track accompanying a nice montage of Ranbir ala Charlie Chaplain ala Mr. Bean being Barfi and I can't wait. 

The smooth with a bit of an edge vocals of Nikhil Paul George give the voice for the great Main Kya Karoon. Again a new sound from the composer, this one with a very modern flavor to it. I really wish I could I talk to Pritam to find out what went into his thoughts for these songs. There seems to be so many layers and flavors and they all work. You certainly haven't heard these tracks before. I love Nikhil Paul George's voice and sometimes it feels as if he is just riffing and I love it. For me, the back up chorus could have been left out, it was one to many layers. However, I love this song, it just makes me smile so this is a must listen! The video certainly has proved to be a hit with fans! 

Kyon is next and from the first strum I thought another happy Barfi! track. Running throughout each of the tracks on this OST is this same feel of a modern intonation, but also a 60s influence to some of the background music that makes them really different and that really shines on 'Kyon'. Papon is brilliant, love his voice on this song, I actually can't imagine anyone else singing this great tune. (Did anyone else think of Cary Grant listening to him sing…no, just me? Okay). Sunidhi Chauhan is at her sweet, mellifluous toned best, of course. 'Kyon' is just lovely and you should give it a play…definitely gives you a feeling that we are in for some surprises on the silver screen. One of my favorites in music, singers and lyrics!
The wonderful Rekha Bhardwaj sings Phir Le Aaya Dil. Not only are her vocals fabulous, but the music on its own is wonderful, which actually is a bit of a problem. Her classic modulation and deep pitch does not totally match the flow of the music, which I found a bit distracting. The music is mix of different flavors with a very sweet sounding feel. I love the piano and guitar layers with the tinkling tones in the back. To be honest I would rather just listen to the music separately because I loved it. Then hear her sing alone with the deeper parts of the song because I do love her voice. A hit and a miss I would say.

There is also a reprise version of Phir Le Aaya Dil, which I liked much better. In fact, this is one of the best on the album for me. Arijit Singh's vocals are just brilliant and on this version of the song I feel as if the music was deepened to match his voice and it worked so much better. Just love everything about this track, the classic Indian flavored beats in the music with the many layers of percussion and light touches to give it a rich sound. At one point the track transforms to almost a jazzy, classic movie flavor with the piano line and that should seem out of place, but totally does not. This one is really one of Pritam's best. So many layers and so full of perfect sounds and tones. Just go get it and then be prepared to hit play again. I also think once we see it in the film it will become even more.
We also have Phir Le Aaya Dil (Redux) that features the great voice of Shafqat Amanat Ali. This version takes the song almost into a more mournful or yearning space with Ali's wonderful almost classic Hindi ballad delivery. The music is very much pared down and infused with Indian sounds and flavors as well as the the lighter piano and guitars. Another great version with a completely different feel. Definitely put this one on replay too.

Aashiyan, for me, had an Italian or maybe Spanish flavor with its sprightly accordion and flute and the whole overall feeling to the musical arrangement on the track. It is very old-worldy in mood and patina and I think you will know what I mean when you hear it. Shreya Ghoshal has this sparkling tone that just adds so much and is the perfect tone for the music. Also heard is Nikhil Paul George who adds the smooth male vocal, which gives it another layer. 'Aashiyan' is great, but at the same time a song that really was unexpected. It will be very interesting to see what is happening on screen, but honestly that is true with every single one of these tracks. There is also a Solo Version sung just by Nikhil Paul George, but I really don't think his voice fits the music or the style. It needed something with more edge and I think more staccato delivery. Stick with the duet.


Saawali Si Raat features Arijit Singh again and again he is wonderful in this more whispery avatar with an extra lightness to his inflections. I would not know it is the same singer if I did not look at the liner notes. He is fabulous. The music is so interesting with so many special little touches to the pretty melodious track. Just a song to get lost in…I did as I was taking notes for this review and had to hit play again. This song is another completely different sound from Pritam who really is showing his incredible range and skill at trying new avenues and reaching for new heights when creating the musical backbone and feeling for the film. I love it!

Director Anurag Basu has said that since Ranbir's character does not talk, 'we have six songs in the film that are used to express the protagonists' feelings without lip-syncing'. The music is part of the way we hear what they are saying. If I was not already totally intrigued and excited to see the film, after hearing the tracks and reading that quote I really, really can't wait until September 14th gets here! This is not your average film and Pritam certainly has created a sweet sounding mix of songs (sorry had to say it once.) As for a rating, since this is not a "classic hit maker" OST, but one that is the voice of the film, I am going to base it completely on how good I think the tracks are, the outstanding quality of the singing, how different a sound Pritam has created and most importantly how they will fit into Barfi's world and for me that makes it 4 stars!