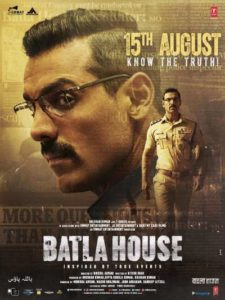 Independence Day means a lot of things to a lot of people. For the new film Batla House, it means standing up for yourself, knowing that even when a system and people may be against you, the truth will always ring out. A controversial story based on an Encounter team Operation of the same name back in 2008, the film is led by Independence Day specialist John Abraham and given a female lead by Mrunal Thakur (Super 30). Musically, Satyameva Jayate this time last year provided a window into what to expect, with one superhit remake and a love song that lingered in the charts well down the months. Rochak Kohli and Taniskh Bagchi are back for this one, so listeners can look forward to more of the same in this short, punchy album.
When Taniskh Bagchi and Neha Kakkar get together a remake is on the cards… so for the first song a remake of 2004's Musafir hit item song 0 Saki Saki. This vaguely Arabic tune is turned up a couple of notches with the music emphasising its Arabic heritage with light Persian drums and appropriate synth additions. Visually there is a remake of 'Dilbar' from last year with Nora Fatehi back to show off her amazing skills. Something has gone wrong with the singers though, as the song sounds off at the important point where Taniskh or Rochak has tried some vocal effects that don't settle well, possibly to give it some point of difference. Overall, this is not as good as 'Dilbar', even on a scale of remakes, and B Praak is no Sukhwinder Singh, even with his reduced role.
Next is the Paniyon Sa equivalent, Rula Diya, a classic 4-4 tabla beat straight out of the 90s. In theory this is supposed to be a sad-ish song, certainly from the lyrics, but never gets anywhere near a tissue box. Ankit Tiwari knows this sort of song well, so settles in to an easy rhythm along with an acoustic guitar, but Dhvani either wasn't the right choice or didn't get the memo as she struggles through singing a song this slowly. Don't expect too much in the way of a melody because of this and the lack of any instrumentation that might have provided backup.
Finally, this album has its power title piece Jako Rakhe Saiyan. Of course, this is a power piece, as the aforementioned Saiyan "mar sake na koi". Many have used this piece before, especially in Punjabi hit songs, the lyrics being self-explanatory in that they are about standing up for yourself as long as you keep the strength of truth by your side. Rochak and Taniskh have chosen the version from 1985's Mard to give audiences a remake of. Navraj Hans and Rochak take to the mic to make a near perfect copy of the song as originally sung and the backing music is enhanced but not much so as not to make it into some heavy rock version.
The music for Batla House was never really going to take centre stage with such a controversial true story being portrayed at such an important time for Indians everywhere. But these films are often a chance for music directors to get a song or two into the charts as the passion and fervour of the day can often make a song very popular e.g. "Khel Khel Mein" from Gold (2018). Taniskh and Rochak have seen this having worked on Satyameva Jayate as well but have decided not to repeat that this year around, thus the low rating.