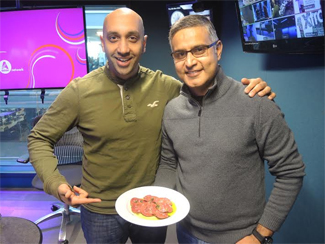 BBC Asian Network presenter Tommy Sandhu this morning announced Neeta Shah from Hertfordshire as winner of the BBC Asian Network's BBC Children in Need competition – Ready Steady Ghee.
The competition was launched to help to raise money for BBC Children in Need, by offering the chance of winning a money-can't-buy prize. It saw budding chefs across the country get involved by submitting a multitude of mouth-watering recipes with Michelin star potential.
After whittling the entries down to a shortlist of three dishes, Michelin star chef Atul Kochhar joined Asian Network presenter Tommy Sandhu live in studio during his daily show (6am-10am) to choose the winning dish.
Neeta's winning recipe – Paisley Beetroot Ravioli – will now go on the menu at Atul's Mayfair restaurant, Benares, until the end of the year. Proceeds from the sale of the dish will go to BBC Children in Need. And next Wednesday, Neeta will get to cook her recipe with Atul at Benares.
Atul said:
"I asked people to think outside the box with their recipes and to do something different. I wanted people to stay away from traditional recipes and to be adventurous. Neeta's recipe for Paisley Beetroot Ravioli won the competition by miles; it was original and daring, it was nothing short of amazing."
Khaliq Meer, Editor BBC Asian Network, said:
"A huge thanks to our listeners for getting stuck into the competition and creating lots of exciting and inventive recipes. Many congratulations to Neeta for producing an amazing dish that bowled Atul over, compelling him to add it to his menu in order to raise money for BBC Children in Need this year!"
Neeta said:
"I'm speechless. This is a mouth-watering, contemporary dish which will transport the taste buds of diners at Benares to exotic faraway places."