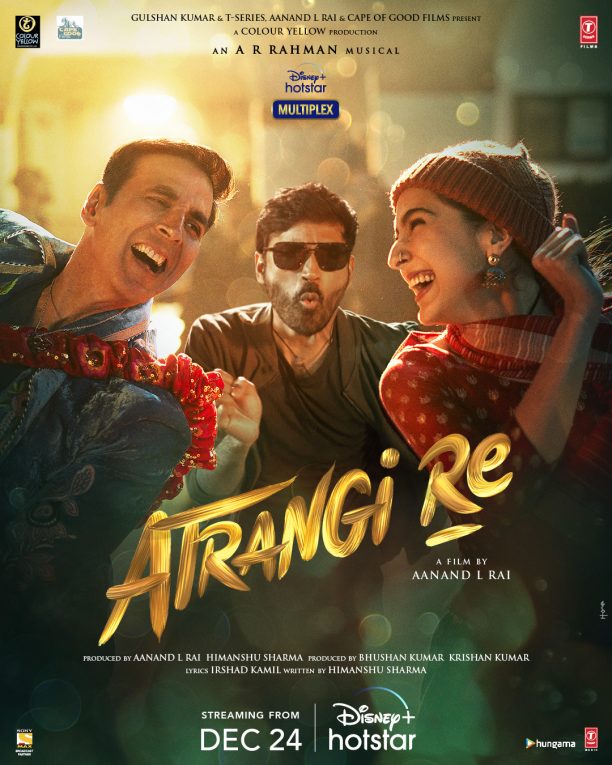 Set to release on December 24th, on Disney+ Hotstar is the highly anticipated Aanand L Rai directed Atrangi Re, which features Akshay Kumar, Dhanush and Sara Ali Khan.
Describing the film earlier the director said, "I strongly believe that you don't find love, it finds you. The only thing you should learn is to be a little patient. Atrangi Re is all about love, patience and madness. It's a fabulous roller-coaster of fun and emotions."
The film not only boasts a cool story line and fabulous cast, Atrangi Re has also been called a movie musical drama and feature songs by the great composer A.R. Rahman.
Talking about the incredible 7-song album Anand L Rai said at the music launch, "The album is all about love, once you listen to the music you will fall in love."
The composer said, "When a film and its plot travels around India, the music needs to move with the story too, and mirror the moods and sentiments of the characters. Stories like Atrangi Re give us the opportunity to try out something different musically."
About working with the director, Mr Rahman added, "The musical journey always starts with the director coming and engaging and saying I want to do this crazy love story. I am a big fan of his (Rai) work, his screenplay, how he brings villages to life and makes it so international so the whole world can see our culture, our joy, sadness, hope, faith, everything. He is a very important director in my life. Working with him, Irshad and Himanshu has been an amazing ride."
The director added, "To get a word (for a song) to describe the situation and character is the much tougher task than writing the full page."
The composer took up that challenge and for each character he wrote a song, "Because I am working with a director so closely and he (Rai) keeps talking about the actors like what Dhanush, Sara and Akshay Kumar do. He told me Akshay has a collection of songs and I thought there is so much competition and that I need to make something cool as he has a lot of choices. Then the song came with keeping Akshay in mind. Dhanush's song came from how he mixes some of English, Hindi and Tamil. We had a song for Dhanush. It was a tough one. The way Sara dances, we had to give her a dance song, which is 'Chaka Chak'".
Let's take a look behind the camera and the music for two of the songs! 'Chaka Chak' and 'Garda'!
'Chaka Chak'
Singer: Shreya Ghosal
Here is the video, which has an amazing number of views…52 million plus in fact
Now let's go behind the camera
'Garda'
Singer: Daler Mehndi
Check out the video which focuses on Akshay's character
Now see what went on behind the scenes
Though we don't have the behind the scenes yet, here is Dhanush's song 'Little Little' sung by Dhanush and Hiral Viradia
Be sure to catch all the atrangi-ness on the 24th when Atrangi Re releases!
You can also check out the juke box here!