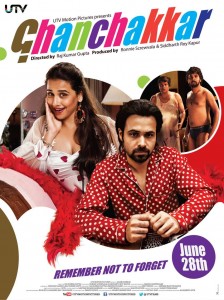 Produced by UTV Motion Pictures, the quirky comedy thriller Ghanchakkar directed by Raj Kumar Gupta is set to release on June 28. The film stars Emraan Hashmi and Vidya Balan in roles we certainly have never seen from them before and we can't wait to see more!
The story: When Sanjay (Emraan Hashmi), a suave, master safe cracker wants to retire from a career in crime, he decides to team up with two dangerous criminals to commit one last heist. A bank robbery that will ensure that he never has to worry about money again! Everything goes according to plan – in the wee hours of the morning a bank vault is broken into and emptied of its contents of 350 million rupees. Sanjay is given the task of hiding the money till things cool down and the booty can be split. Two months later Sanjay's associates return to collect their share of the loot, but to their horror discover that Sanjay has lost his memory in an accident. Is he pretending? Or does he really have no recollection of the robbery and where the money is hidden? Will he be able to find the stash before a bullet finds him? Ghanchakkar is a crazy, quirky rollercoaster suspense ride that will surprise, shock and entertain you at every turn.
In case you missed it, here is the trailer!

We have some cool exclusive behind the scenes peaks from the sets of the film!
Stay tuned we will be bringing you much more!