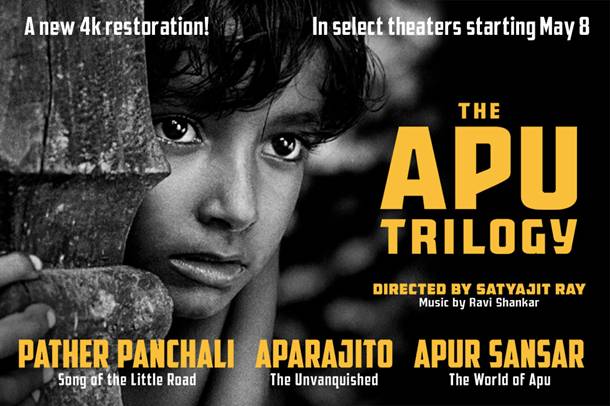 Marking the 60th anniversary of the release of Satyajit Ray's iconic classic PATHER PANCHALI, the fully restored films of THE APU TRILOGY with English subtitles will be released in theaters for a limited time starting this Friday May 8 at Film Forum in New York City. A new behind-the-scenes video has premiered chronicling the once unthinkable restoration of the legendary trilogy whose negatives were thought to have been lost to fire.
Following an incredible seven-year restoration program, Janus Films proudly releases THE APU TRILOGY in North American theaters beginning in New York followed by releases in several other major cities throughout May and June allowing film lovers of all generations to experience one of India's greatest masterpieces on the big screen. Additional cities include Los Angeles, San Francisco, Washington DC, Philadelphia, Boston, Detroit, Houston and Vancouver.
These delicate masterworks – Pather Panchali (Song of the Little Road), Aparajito (The Unvanquished), and Apur Sansar (The World of Apu) – based on two books by Bibhutibhusan Banerjee, were shot over the course of five years, and each stands on its own as a tender, visually radiant journey. They are among the most achingly beautiful, richly humane movies ever made – essential works for any film lover.
Frequently listed as one of the top accomplishments in the history of cinema, the trilogy helped bring India into the golden age of international art-house cinema but this restoration was long thought to be impossible, after a fire severely damaged the original negatives in 1993. Whatever was left of them was salvaged by the Academy Film Archive, and it wasn't until the technology improved that this restoration was possible. Close to a thousand hours of meticulous hand labor were spent to rehydrate the brittle film, rebuild sprocket perforations on the sides of the film and remove melted tape, glue and wax, and suitable replacements were found for the non-usable or missing sections of the original negatives.
THE APU TRILOGY follows one indelible character, a free-spirited child in rural Bengal who matures into an adolescent urban student and finally a sensitive man of the world.
PATHER PANCHALI (Song of the Little Road)
INDIA * 1955 * 125 MINUTES * BLACK & WHITE * IN BENGALI WITH ENGLISH SUBTITLES
The release in 1955 of Satyajit Ray's debut, Pather Panchali, introduced to the world an eloquent and important new cinematic voice. A depiction of rural Bengali life in a style inspired by Italian neorealism, this naturalistic but poetic evocation of a number of years in the life of a family introduces us to both little Apu and, just as essentially, the women who will help shape him: his independent older sister, Durga; his harried mother, Sarbajaya, who, with her husband often away, must hold the family together; and his kindly and mischievous elderly "auntie," Indir-vivid, multifaceted characters all. With resplendent photography informed by its young protagonist's perpetual sense of discovery, the Cannes-awarded Pather Panchali is an immersive cinematic experience and a film of elemental power.
APARAJITO (The Unvanquished)
INDIA * 1956 * 109 MINUTES * BLACK & WHITE * IN BENGALI WITH ENGLISH SUBTITLES
Satyajit Ray had not planned to make a sequel to Pather Panchali, but after the film's international success, he decided to continue Apu's narrative. Aparajito picks up where the first film leaves off, with Apu and his family having moved away from the country to live in the bustling holy city of Varanasi (then known as Benares). As Apu progresses from wide-eyed child to intellectually curious teenager, eventually studying in Kolkata, we witness his academic and moral education, as well as the growing complexity of his relationship with his mother. This tenderly expressive, often heart-wrenching film, which won three top prizes at the Venice Film Festival, including the Golden Lion, not only extends but also spiritually deepens the tale of Apu.
APUR SANSAR (The World of Apu)
INDIA * 1959 * 105 MINUTES * BLACK & WHITE * IN BENGALI WITH ENGLISH SUBTITLES
By the time Apur Sansar was released, Satyajit Ray had directed not only the first two Apu films but also the masterpiece The Music Room, and was well on his way to becoming a legend. This extraordinary final chapter brings our protagonist's journey full circle. Apu is now in his early twenties, out of college, and hoping to live as a writer. Alongside his professional ambitions, the film charts his romantic awakening, which occurs as the result of a most unlikely turn of events, and his eventual, fraught fatherhood. Featuring soon to be Ray regulars Soumitra Chatterjee and Sharmila Tagore in star-making performances, and demonstrating Ray's ever-more-impressive skills as a crafter of pure cinematic imagery, Apur Sansar is a breathtaking conclusion to this monumental trilogy.
Stay tuned we will be bringing you exclusive reviews of each of these masterworks!