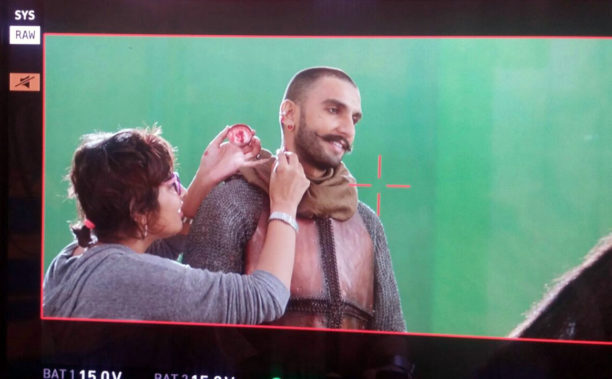 National award-winning make-up and prosthetics artiste Preetisheel Singh, who is working on Ranveer Singh, Shahid Kapoor and Deepika Padukone's looks in Sanjay Leela Bhansali's much-awaited period drama Padmavati, says she is trying to do something different with the looks in the film.
"Padmavati is set during the 12th century, and we don't have paintings from that era from where we can take references," she said in an interview to Scroll.in. So Preetisheel has gone ahead and photoshoped ideas before putting them into practice. She says, though it is an imaginative and time-consuming process, it's not very difficult for her as she always tries to make the actor don a look that he or she hasn't had before.
Now anyone who knows even a little bit about Preetisheel would agree to that. After all, she has made a lot of heads turn with her work for actors in more than 15 movies including Bajirao Mastani, Rangoon, Brothers, Mom, Haider, Parched, Hawaizaada, Shivaay, Talwar, Housefull 3, Ghayal Once Again, Finding Fanny, the Tamil film 24 as well as the pre-Mughal historical epic Nanak Shah Fakir for which she won the 'National Film Award for Best Make-Up'.
Soon her work will also be seen in awaited movies like Umesh Shukla's 102 Not Out, Vikramaditya Motwane's Bhavesh Joshi and Sunny Deol's Pal Pal Dil Ke Paas.
"Besides providing services for any makeup related demands under one roof, my main motto is to provide quality makeup," she adds in the Scroll interview. That is also the reason why she has launched 'Da Makeup Lab' a special effects makeup studio, which caters to prosthetics, body painting, tattoo work and character designing.
"Prosthetic has a lot of parts involved in it," she explains. "You first take the life cast of the actor in 3D measurement after which you sculpt and make moulds, running silicon pieces in it. The silicon pieces are then applied on the actor and are merged with the actor's skin so that it doesn't look artificial. So tomorrow if a filmmaker comes up and has the requirement for an alien creature, we can do it."
We cannot wait to see what the final looks will be for Padmavati and more!