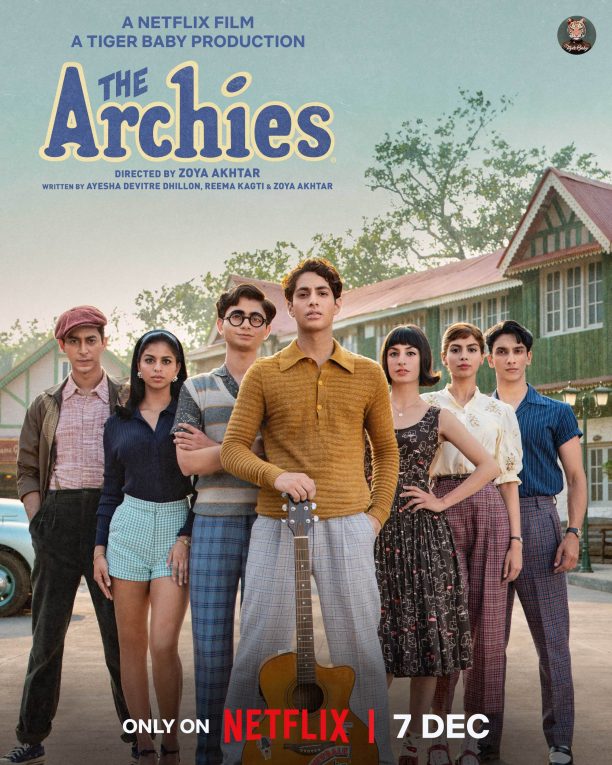 Coming up on 7th December, get ready to meet Riverdale's favorite set of teenagers. The Archies, a coming-of-age musical, follows the lives of Archie, Betty, Veronica, Jughead, Reggie, Ethel and Dilton who will take audiences to the fictional hilly town of Riverdale on 7th. Seen through the lens of the unique Anglo-Indian community, The Archies explores friendship, freedom, love, heartbreak and rebellion.
Directed by Zoya Akhtar, the Indian adaptation of the beloved comics will see Dot play Ethel Muggs, Agastya Nanda as the charming and talented Archie Andrews, Khushi Kapoor will take on the role of Betty Cooper, Mihir Ahuja as the always hungry Jughead Jones, Veronica Lodge will be portrayed by Suhana Khan, Heartthrob Reggie Mantle will be showcased by Vedang Raina and Yuvraj Menda will play Dilton Doiley.
The first song, the ear worm, in the best way possible 'Sunoh', recently released and fans loved the catchy beat. Sunoh,' is a song created by the ingenious duo of Ankur Tewari and The Islanders, lyrically woven by the maestro Javed Akhtar and the young and talented Dot, harmoniously performed by Tejas Menon and Shivam Mahadevan. 'Sunoh' helps viewers to immerse into the exciting world of 'The Archies,' introducing the characters of the film.
Filmmaker Zoya Akhtar, said, "With 'Sunoh' we wanted to encapsulate the teenage soul of the 60's. 'The Archies' is a celebration of that era. The song had to evoke simplicity, nostalgia but also a rebellion and idealism that could resonate with Gen Z today."
We loved the video and now we have a special Behind the Song video and it is groovy!
Check it out!
The Archies releases on Netflix on December 7th!