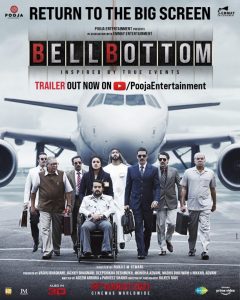 BellBottom
Starring Akshay Kumar, Lara Dutta
Directed by Ranjit Tiwary
I braved Covid to see Bell Bottom. The attendance was not unimpressive. Considering…. The atmosphere was subdued, almost reverent. I could hear murmurs all around me about returning after two years, etc etc.
The mood was that of a temple. Sadly BellBottom rings too many familiar bells. It doesn't really match up to the expectation of the expectant crowds, some of who had almost forgotten what a movie feels like in a theatre. BellBottom is halfway exhilarating.
Aptly, much of the plotting and planning takes place in the prime minister's chamber. Prime Minster Indira Gandhi, that is. Yes, this is the 1980s when bell bottoms were already on the way out. Perhaps the fact that the hero, a reluctant RAW agent named Anshul Malhotra, played by the habitually equanimous Akshay Kumar, goes by the code-name BellBottom is an indication of his approaching obsoleteness RAW agents, as we know, are dispensed of when they've served their purpose. Anshul alias BellBottom (alias BB for us from here onwards) is brought in after seven hijacking incidents involving you-know-who.
Our neighbours have their hands soaked in blood. Just last week we saw Pakistani politicians plotting the end of the Indian subcontinent in Bhuj. Ajay Devgan put them in their place. Now it's Akshay Kumar's turn.
They are back at it again. Yeh log baaz nahin aayenge, I tell you. Akshay Kumar, looking dapper in his well-tailored suits (flaring pants with nostrils to match) makes Mrs G's cabinet look damn silly. He delivers well thought-out punchlines with a straight face. Mrs G, smart woman, that she is, get it completely. Though her stoic face(maybe it is the damn prosthetics) gives nothing away when BB says, "No negotiation with the hijackers," PM Sahiba does a imaginary high-five with BB.
I loved the bonding between the two more than BB's bonding with his biwi who looks like a cold-cream model on a hot sultry day.Sorry, Akshay and Ms Vaani Kapoor don't look like a pair. He has more fun with Dolly Ahluwalia who plays his typical loud balle-balle Punjabi mother. Their sequence together on the night before she flies to London to be with her other(seemingly favourite) son is the best sequence in a film that seems to subscribe to the rapid-edit-quick-cuts policy to keep audiences' attention riveted.
But where is the agony and immediacy of the hijacked passengers, so palpably portrayed in Ram Madhvani's Neerja? We are told a female hockey team is flying in the hijacked plane. Rather than construct some engaging confrontations on board the narrative scampers all over the place mostly in the quest of making our super hero look even more glorified.
Our BB is one helluva observer. He watches a few shots of the Mere sapne ki rani song in Aradhana and can tell the exact colour of Sharmila Tagore's eyeliner. He catches out Huma Qureshi's true intention in no time at all. Must say our hero as good sense of Huma.
As for common sense, that is seen to be sorely lacking when a powerful Dubai politician proclaims, "We would rather negotiate with terrorists rather than let one human being die"
Arrey Bhai Saab, that's what we are all here for. To reiterate that terrorism must be non-negotiable.That Akshay Kumar must emerge as a man who means business. And that's non-negotiable.