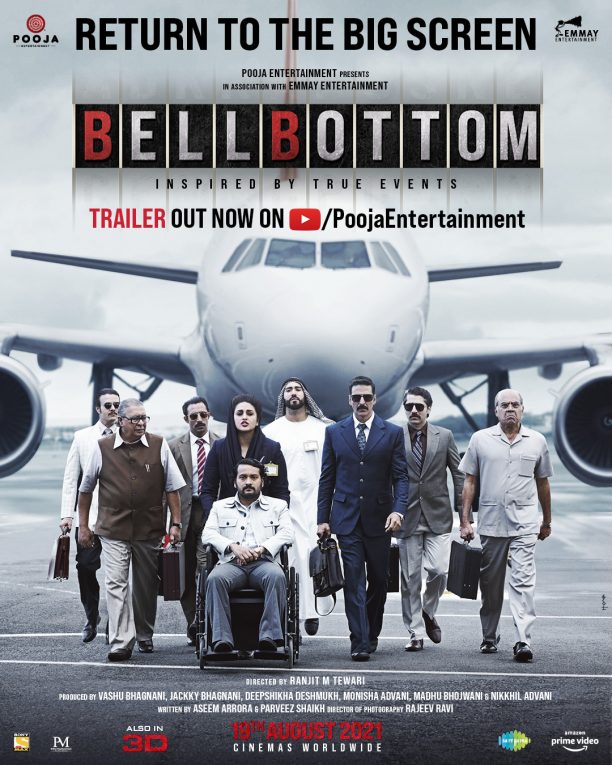 BellBottom looks like the kind of inspirational cinema where the audience will clap and whistle the minute the hero confronts Mrs Indira Gandhi…yes, she is in it too. God and the Pm know, they need a saviour. Who better equipped then Mr Bell Bottom..yes that's the codename for our hero. Thank God he doesn't wear drainpipe trousers.
In case we miss the point, there are close-ups of the Superstar's billowing trousers.
Yup, there is a certain flair about Akshay Kumar. He is lean and lithe, slippery and sinewy. Enemies, better watch it! Even Mrs Gandhi acknowledges his super powers. I must say the actress playing the formidable former prime minister strikes the right notes. I don't know who she is. I tried to find out but hit a dead-end. Someone from the team told me, 'Sir she is the band mutthi of our film'. Mrs G has been called a lot of names in her time. Never that.
I did get a Caroline Bernstein playing the Iron Lady, Margaret Thatcher, though. Whether she is as good as Meryl Steep in The Iron Lady, only time will tell. Fingers crossed.
BellBottom suggests that India is not country but an "idea". Ek soch. What an idea, Sirji. It's time we stopped looking at the country and its burning problems in abstracts and tackled them headlong. The problem here is a series of hijackings.
Mrs G says, let's get BellBottom. Cut to Akshay Kumar barging into a man doing his potty. The bottom seems never too far from this hero's state of mind. Oh before I forget, Vaani Kapoor plays Bellbottom's wife. She gets to say "I Love You" on the phone before he takes off for his mission to save our country, marriage be damned.
To its credit , BellBottom does have a certain spin to its storytelling. The aerial shots are impressively mounted. And the film like a cross between Akshay's Baby and Airlift. I don't know if Tom Cruise and his Top Gun have reason to feel insecure. But I am pretty sure bell bottoms will comeback in vogue after August 19. Bottoms up.
Oh, a disclaimer at the start of the trailer tells us the story is BASED on facts. But the treatment is fictional. Right. We believe you.