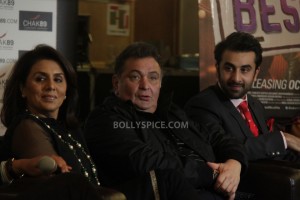 The Kapoor trio in one film: mum, dad and son was not something which was planned. It actually happened very much by chance when director Abhinav Kashyup came round Ranbir's home to discuss the film and ended up splitting the main role of the police officer into two characters to fit mother and father. Now the film is ready for release, not only are fans in for a super treat, Bollywood's number one family also had an amazing time on set working with one another and shared their fond experiences whilst in London to promote the film.
Ranbir talked merrily about how, "It was fantastic working with my parents" and that because "we hardly get time to spend with each other, thankfully this film allowed us to do that." Although many of us are used to respectfully taking orders from our parents Ranbir was glad to share that "They never once dictated to me during the shooting of this film, in fact I gave them suggestions on how I thought their characters should be portrayed." Above all the most important experience of working with his parents was that "We had a lot of fun working together and it helped me to overcome a lot of inhibitions."
Father Rishi Kapoor was delighted to work with his wife and son "We are all very busy people and do not always get time to spend together due to our separate professional schedules, so it was great to be able to spend time together on set and to work together." Rishi Kapoor plays a police officer who is hot on trail of Ranbir in the film, he shared that "It was actually Ranbir who suggested to Abhinav that I play the role. After confirming his own commitment to the film Ranbir was discussing who could play a middle aged cop with Abhinav and he suggested me as I have rarely done it before."
Naturally mother Neetu Singh was excited to work with her husband and son, "I was overwhelmed when I heard we were going as a family to act in Besharam. My acting scenes came naturally from the start, as it was easy to act and be myself in front of them." A proud mother, she believes that "Ranbir has done a fantastic job in his previous films and has managed to win many awards for his portrayal of a traditional Bollywood hero." With Besharam she shares that Ranbir's role as Babli is "a very diverse role and requires a portrayal of many different emotions on screen, I think this appealed to Ranbir as he is always keen to try something new."
You will be able to catch the Kapoor clan in Besharam which releases worldwide on 2nd October and is directed by the director of Dabaang – Abhinav Kashyap and also also stars Pallavi Sharda as the lead actress, who is of Australian origin.