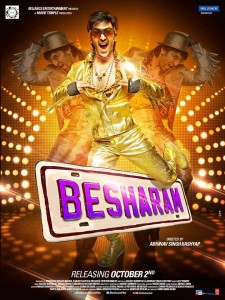 Lalit Pandit isn't a first time music director and this isn't the first time he has worked with Abhinav Kashyap. But the spark that turned into an allout conquering of the music world with 'Munni Badnaam Hui' is being tested with Abhinav Kashyap announced Besharam and Lalit had full control, the soundtrack invested interest just for curiosity. However, there isn't much point in going into the backdrop now, so read on to find out how Lalit faired with writers Rajeev Barnwal, Nikhat Azmi and Himanshu Kishan Mehra.
First Up is Besharam. As a title track and the first song of the album, there is an expectation for it to hit a home run but while get given the "Be fis for Beimaan, Sha is for Shaitaan, Raam Ki Cheete hai Hum, Besharam", the catchy tune is a dime-a-dozen type. Shree D/Ishq Bector can try adding as much Panjabi to it but its unlikely to hit the history books.
Tere Mohalle brings back Mamta Sharma and with Aishwarya Nigam in a girl vs boyish tug of war that takes to the ears quickly as well. In essence it has all the necessary trimmings for a item song but the visual of Ranbir and Sharda Pallavi indicate the ladaai before the love. The icing on the cake is Nikhat Azmi lyrics to make sure you dance and sing along to keep this fun, peppy and enjoyable at least for a few listens.
Love Ki Ghanti is a throwback to some classic songs like 'Mere Haath Mein' in the Fanaa soundtrack (which in turn is inspired by an Italian music) and formed into a story with Sujeet Shetty (a music director himself in Kannada) and Amitosh Nagpal and Ranbir Kapoor in his debut behind the mic a la Kajol and Aamir. This one is bound to bring back fond memories for the oldies and trigger interest for the young ones as it also is the first time the song gets regional but in unconventional way. 3 words: seat bopping worthy.
Dil Ka Jo Haal is a road trip song with Ranbir trying to convince Pallavi Of his love and while the song is earnest in attempt, the influence of 'Jo Haal Dil Ka' from Sarfarosh isn't enough to convince us of this song. External influences are all fine and dandy, if the original isnt better to begin with so apologies to Rajeev Barnwal but its a no go even Abhijeet and Shreya stood no chance of saving the comparisons and sleep walk through it.
Shreya Ghosal gets back into the melody groove and saves the barely passing soundtrack with Sonu Nigam in tow for Tu Hai. Another throwback but thankfully without the obvious inspiration. More of a throwback to 90's era overflowing with these kind of smooth numbers with an unplugged version to enjoy Nikhat Azmi's love soaked lyrics to one of my favourite singing jodis.
Aa Re Aa Re reverts us back to the uneventful journey of this album with Mika Singh and Shreya which under normal circumstances would have intrigued us but Rajeev Barnwal's attempt at desi masti masalafied a la Munni Badnaam Hui doesnt cut it. Not just lyrically but a rather boring item. All you are left with is numerous attempts at trying to connect to the dancey number.
Lastly and no better than we began is Chal Hand Uthake Nachche. Individually Daler Mehndi, Sunidhi Chauhan and Mika Singh are positively fun and awesome when in comes to dance numbers and the charts have the proof. But this collaboration is plain, loud and beat heavy. Of course, there is probably a reason for the track but right now the ears need rest from the torture as all 3 jump up on the decibels and we question Lalit and Kumaar where the creativity went.
The original tracks are questionable as it is so while we are wondering why, the remix versions just induce yawns in regular intervals.
End verdict? Lalit got lucky and Besharam is besuraa barring 'Tu Hai'. Besharam hits theaters on October 2nd.