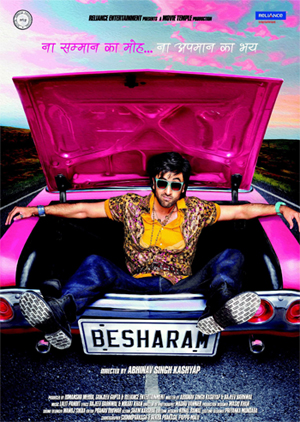 Over the 10 films in his young career, Ranbir Kapoor has hit all the right notes, in genres ranging from drama to romance and everything in between. The young actor has played a myriad of characters: the driven Rockstar, the lazy Sid, the silent Barfi, the boy of today learning about love à la Bunny, and many more. He has always impressed with his fabulous performances.  His earlier films have had comedy as part of the mix, and his release this Friday is full-on, off-the-wall Besharam (shameless), but in a good way!
In the film, Ranbir plays Babli, a street smart car mechanic living in a Delhi orphanage. He is charming and lives life to the fullest. He also steals cars to support the orphanage. He has no sense of right or wrong until he unwittingly hurts the love of his life, Tara (Pallavi Sharda) and is chased by the corrupt cop couple Chulbul Chautala (Rishi Kapoor) and Bulbul Chautala (Neetu Kapoor). Along the way Babli realizes that there is no right way of doing the wrong thing. To find out how he sets out to fix all the wrongs in his life and if he continues to be shameless about it, you will see when the film hits theaters on October 2nd!
While shooting for his next film in Sri Lanka, Ranbir talked with Stacey about creating Babli of Besharam, tying his esteemed actor father up for a scene in the film, and what we can expect when the action-comedy-romance hits theaters!
So what drew you to this role?
It was the kind of story that Abhinav wanted to say through the film, the character and mostly to work with Abhinav himself. I have been a big admirer of his previous work, Dabangg. He wants to make an entertaining, clean family film. It is like an action-romantic-comedy-caper. Very simple, nothing deep. At the same time, it has a lot of deep philosophy without trying to hard. It was an amalgamation of all these things that really drew me towards the film.
This is a crazy character, so how did you create Babli?
As an actor you have to let your imagination go a little wilder with such characters because you want to play him a little loud, over the top, a little vulgar – he had shades of Austin Powers. There is no reference point to this character because he is a bit fantastical. At the same time you have to have him have an emotional connect with the audience and so with a character like that so you have to make him real. You have to make him a little human. I think it is a process. I just start building the character, finding out who he is, working with the director, jamming with the director and with the other actors. You add in the costuming and the other things and automatically and eventually the character just comes in focus the more you work.
So what do you think is harder going deep like you did in Rockstar, silent like Barfi, romancing singing and dancing or doing something like this which is a bit off the wall funny?
I think the hardest film for me so far has been Yeh Jawaani Hai Deewani, and I say that because it seems simple, but when you have a character which is so urban and is somewhat like how you are in real life, it is harder to show on screen. You don't have any trappings – you don't have anything to hold on to as a character. I think being yourself is hard. With Besharam I had lots of fun. I really enjoy doing comedy. I enjoy doing things, which are a little nonsensical.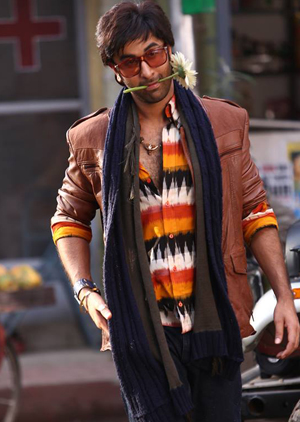 How do you get yourself into a place to do the mad, nonsensical scenes like in Besharam, because you really have to go completely uninhibited to the scene?
Absolutely. And like the title says you have to be Besharam. I guess the strong support comes from your director and your crew. If you are convinced and if you trust them then you wouldn't have your own huge kit full of inhibitions and will be able to go with the flow. At the same time, you have to have a reality check of not to over do it. (Laughs) It is something that you don't have a set formula for – if it comes it comes. Some of it can be a tricky thing: it's all about timing, it about the dialogue, it is about how you pitch it. However, with Besharam, we are not really trying to do a comedy where we are trying to make you laugh – it is all situational and it comes from the character. Besharam is a character driven film. Hopefully that translates onscreen as well.
What was it like to work with your parents?
Initially I was little apprehensive – I was little nervous thinking I would choke on my dialogues when I would have to act in front of them. But I think they have been actors for so long and they're such wonderful amazing actors that they showed such amazing support. It was like a home away from home being on set.
Also, they have liked their parts individually. They have not come on to this film because I am a part of the film. I think they really enjoyed their parts they have played. They play two corrupt cops. I play a car thief and they are always chasing me in the film. They are not playing my real life parents. I think that dynamic was very interesting.
I finally got to share screen space with my father, who is my favorite actor. And somewhere I did realize why he is my favorite actor, it is because he is so spontaneous and passionate about his work. Whatever he does is on the spur of the moment. His passion even after working for 35 years non-stop. He is still so eager as an actor. He still wants to do better. He is constantly thinking. He is being spontaneous. Just to have that enthusiasm even at this age I think that is a really great learning curve for me – I got to learn a lot just watching him.
So I know you and your father Mr. Rishi Kapoor are thorough professionals, but what did you think when you read you had to tie him up on a bed? Was it like Oh My God?
It was exactly that Oh My God how will I do it!?! Because somewhere I am a bit scared of my father, I don't have that buddy-buddy relationship with him. But he just took to the scene; he really liked the comic element to the scene. He just said go for it and in between takes he said tie me harder, hit me, tickle me, do things like that. It was a little hard, but once the cameras are on there is a purpose and you forget that he is your father and just believe that he is the character and that your are in your character and go for it.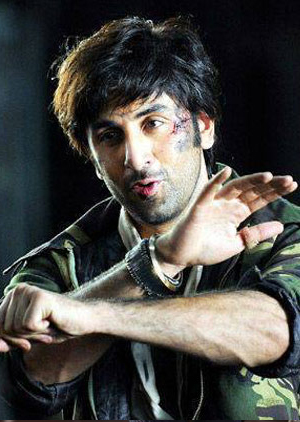 Then your mother who in Besharam is playing such a different character and so well; I mean just seeing her in the trailer cracking her knuckles was so right and good! What was it like to see her in that avatar?
I am a little possessive and shy about my mother. Like I always use to shy away from her movies. I am a little bit protective. I think she is the performance of the film. You believe it and you believe it the most. She is coming on screen after a long time. She playing a very ruthless corrupt cop that has a lot of comedy shades to her and you haven't seen her like that. I think she has hit the character bang on. I am really proud of what she has done with this film.
What was it like to work with director Abhinav Kashyap?
He is very straightforward. He is very simple. He is very clear in what he wants, you know, there is no intellectual jargon attached to it. It is just simple story telling. He wants to make an entertaining film. He wants to make a popular film with songs, dance, action, comedy, romance and really pack it in in one film. Then make a string tying everything seamlessly together with an underlying story and the strong emotional connect between characters. It has been a great experience. Through the film he actually kept telling me, 'You have to feel like a hero – you have to feel like a hero'. Because most of the movies I have been doing I am playing the urban coming of age boy and here I have to kind of hit people and I had to mouth these filmi dialogs. So it was new for me. I don't think I would have been able to do it without Abhinav's conviction in me.
From the trailer you have done some pretty cool stunts and fight sequences, so what is it like to shoot something like that?
You know, it pretty much similar to shooting a song because everything is choreographed, everything is rehearsed; there are a lot of safety measures that goes behind it. I think more than hitting people and people are flying it is also the intensity of and the reason behind what you are doing. I think if that is strong enough then it looks convincing. If you are just punching someone and they go flying 20 feet away it might just seem stupid – I am not a superhero, I am just a normal boy in the film. I think that understanding is important. It was fun though. I have never punched a person in my last 10 films I have acted in so this is the first time I have gotten to do it.
How was it working with Pallavi Sharda?
It was great. It was her first big mainstream film. She came with a lot of conviction – a lot of hard work. She is an amazing dancer. I truly hope that the audiences accept her and she gets more opportunities in the future.
What can audiences expect to see when they come see Besharam?
Entertainment! A great story and a character you can connect with. Just to have fun. We are just trying to make a simple entertaining film – we are not churning your mind about society and stuff. So hopefully it will be just a fun entertaining experience for them.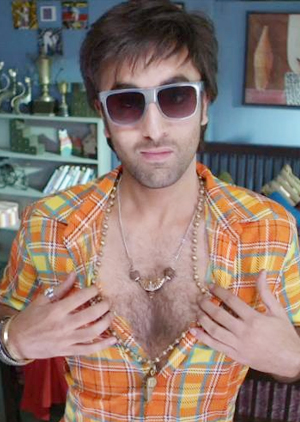 What do you love about being an actor?
Everything, you know. To be honest it is very rare in life to get to do what you love and I am extremely grateful for it. I don't take my job for granted. I have lots of fun doing it. I here to surrender to the parts and go through my own emotional journeys from film to film. Play different characters. Interact with different people – different directors. My job takes me to beautiful places that I get to shoot in. I get to romance extremely beautiful women. I am a happy camper. I don't think I could ask for a better job.
You have incredible support from your fans all over the world what does that mean to you?
Means the world to me. Sometimes there is a certain disbelief of why do you give me so much love and support? The least I can do is to just reciprocate it with good films and keep their love and support in tact. It is amazing. Even from the media, from journalists, from fans I have always gotten amazing support – even from the first, even though my first film didn't do so well at the box office. So I am grateful and I want them to know I don't take it for granted ever.
What's next for you?
Currently I am working on a film called Bombay Velvet. It is actually directed by Abhinav's brother Anurag Kashyap. It is a 50-60s gangster drama. Post that I am working with a director I worked on Barfi with, Anurag Basu. We are making a film called Jagga Jasoos, which is a children's detective film.