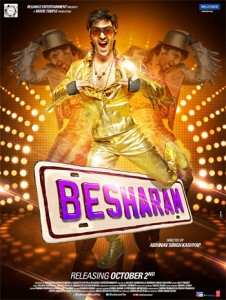 Worst fears came true for Besharam on it's release last week. Given the kind of wide release and a holiday arrival that Besharam was enjoying, it should have ideally crossed the 25 crore mark on the opening day and then consolidated its position. However cracks started widening on 2nd October itself when the Ranbir Kapoor starrer just about managed to cross the 20 crore mark. However disaster struck the film in days to follow when it saw a massive decline for itself. So much so that after a steep fall on Thursday and Friday, there was not much respite on Saturday and Sunday either, hence resulting in a total downfall.
As a result, the film couldn't even cross the 50 crore mark despite three holidays in its first five days and could score only around 47 crore. The Abhinav Kashyap directed affair could well have taken advantage of such huge window open for itself, more so since it was the solo release of the week with no competition before it. However there isn't much for the film to play here even though there is one more week which is open for it in days to come. A major disappointment indeed because with a 14 day availability, sky was the limit for 'Besharam' to not just comfortably cross the 100 crore mark but go beyond.
However, the film was given a royal ignore by the audience after it's opening day itself, and all due to it's poor content and equally uninspiring execution. Though the makers believe that their product has been sabotaged, the fact remains that the film did take an opening after all on its first day and after that it was audience that pulled the film down, and no one else.