My OH My, how fast has 2011 gone. Most may feel it was only yesterday when 2010 began but here we are in a new year and eagerly waiting to see what comes. Naturally, this is a big thing for Bollywood followers like BollySpice as we delve into the best films of 2011. So without further adieu, here we go.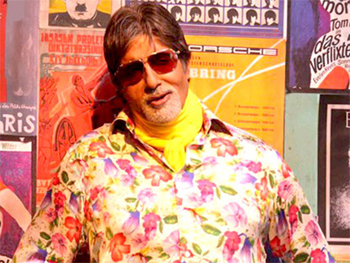 Ten: Bbuddha Hoga Tera Baap
He began the angry young man trend and stamped his rights on history. Amitabh Bachchan returns to the screen to recapture the tag in Bbuddha Hoga Tera Baap, under the direction of South director Puri Jagannath.
For those that have been sitting under a rock or hiding in their rooms, Puri's Telugu film Pokiri was remade with Salman Khan as Wanted. While he let Prabhu Deva take over the director's chair for that film, he got back into his chair of familiar territory and brought along the angry old man in a masala fest that was applauded by all fans and critics too. We certainly loved the film and gave it 4.5 stars saying, "It is a complete and unabashed masala roller-coaster ride, out to do one thing. Entertain. And that it does very well." About Big B's performance,"Clearly aimed at the fans of that infamous Angry Young Man character desperately want to see him back in theatre halls, he brings the whole kit and caboodle and showcases to all why the craze started". In fact, audiences so enjoyed seeing the actor in this avatar again that most fans are wanting their beloved Big B to recreate more of his old magic. Will this happen? Only time will tell. Till then BHTB quenched the thirst of all fans and brought in some new ones.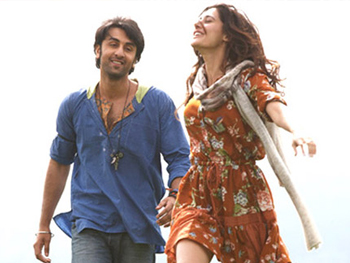 Nine: Rockstar
Okay, so we might have a few questions as to why it's named Rockstar, but Imtiaz Ali's much anticipated film following his hugely successful Jab We Met, is a drastic turn from the candy floss entertainers that we have seen from the director in the past. Add in legend in the making Ranbir Kapoor and newbie Nargis of the ramp for the leads, an awesome soundtrack by the one and only A. R. Rahman and the last film to have another legend, Shammi Kapoor and your expectations rise to a lethal level.
This combination not only stirred curiosity but blew the minds of all that witnessed the film on the big screen. Yes, it had its flaws, but there is no denying the impact of this film. 4 stars was our final call and that was mostly for the outstanding performance of Ranbir Kapoor. The music with the incredible vocals of Mohit Chuahan took us a bit to get into but once seen in the context of the film is definitely worth a mention.
Eight: Patiala House
We've seen the Bend it Like Beckham, Iqbals, the Dhana Dhan Goal , but this year we see Akshay Kumar, Rishi Kapoor and Anushka Sharma star in the sport/ family drama Patiala House directed by Nikhil Advani. Now yes, there were some apprehensions, what with the previously mentioned films, plus a few others, still fresh in the memories of the audience and the director's last films proving to be complete duds; Patiala House stood its ground.
The film not only wiped the memory of the other films but it brought much love with an innovative adaptation in a film context and performances by this lead cast. This includes the favorite hottie of the season Anushka and our very own Khiladi Kumar in a downplayed role backed by the legendary Rishi Kapoor and Voila! The sun shines on Patiala House.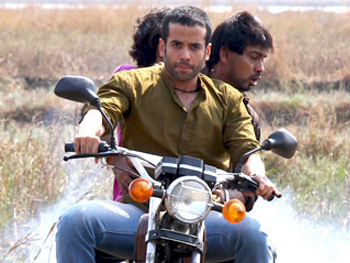 Seven: Shor in the City
Amongst the big guns that take over the Friday screens, Shor in the City was a silent shooter that took us by surprise. Whether it was the treatment or the performances, this is one film that hit home loud and clear. After taking the film festivals by storm, the film met with a less than a favorable outcome on home shores yet the cast and crew, dominated by newcomers including Sundeep Kishan and Sendhil Ramamurthy made enough noise to prove once again size/star power doesn't matter when you have a rock solid story and cast.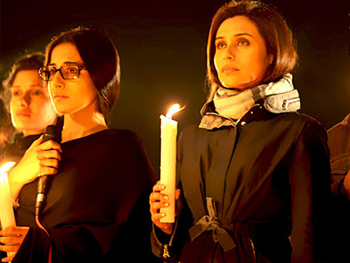 Six: No One Killed Jessica
The case was one of the most talked about. The premise equally relatable. For the commoner whose struggles with societies double standards between for the haves and the have not, the film collaborates amazing talent and remarkable interest. No-One Killed Jessica saw the return of Bollywood Rani of Hearts, Rani Mukherji and brings back powerhouse performer, Vidya Balan in an adaptation of the true story and the case that rocked the nation. The film saw Rani strip away from any good girl image she may have had and Vidya perform yet another chameleon act. Both actresses rarely shared screen space in the film, however, they were so tall in their portrayal that the unwritten law of a female backed story will not succeed commercially was torn to shreds.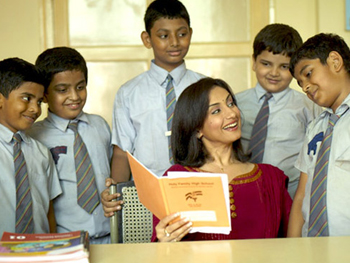 Five: Stanley Ka Dabba
As the saying goes, 'good things come in small packages', and this is precisely what the mind of the makers of Stanley Ka Dabba forged this film on. Amongst all the grown up stories about kids, including Amole Gupte's own Taare Zameen Par, SKD is based on the story of a kid from a kid's point of view and for kids as well. The major dramas of a baddie or society or a flashback do not enter the minds of these kids. It's simple, sweet, lively and full of emotion. What was so amazing was this was filmed during a series of acting classes with kids at a school. Amole Gupte told us, "I opened a voluntary session class on Saturdays in this particular school for its children for four hours. I never promised a film to myself, but one happened. As we went along I thought, let me session this one screenplay I had with this class. So, we kind of built it up over 11/2 years and at the end of this period we had a film in hand called Stanley Ka Dabba (Stanley's Lunch Box)."
A gluttonous teacher, a misfit kid and one small Dabba form a film that is sure to pull your heart strings as it did ours and the rest of the Bollywood fraternity, who had nothing but tasty comments and lots of applause for Stanley Ka Dabba.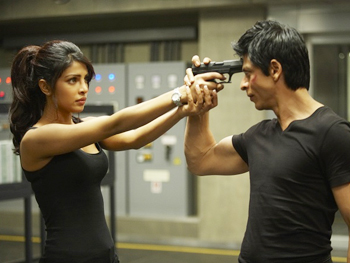 Four: Don 2
Cult classics are a danger zone to remake but Farhan Akhtar not only remade the classic Don which originally starred Amitabh Bachchan, but he also made a sequel to his own interpretation of this classic. Avid fans of the remake with Shah Rukh Khan were only too willing to wait for the sequel which promised to be as slick and suave as Don himself.
A true sequel that ties back to the first film, Don 2 left us in awe even when it was only a trailer that we had seen. When the film released, it was safe to say the audience and BollySpice alike was flabbergasted to the point of no return. The beloved Bollywood Ka Baadshaah was accompanied by his old nemesis played by Boman Irani, his old flame Priyanka Chopra, but brought along his sexy new moll Lara Dutta and cyber slick fan Kunal Kapoor. Lots of twists, turns and bomb blasts in a banging sequel that is rumored to have another part in the making.
Three: Delhi Belly
While the title did raise a few questions, nothing could have prepared the audience for the phenomenon that was Delhi Belly. Imran Khan, Vir Das and Kunaal Roy Kapur star in the film directed by Abhinay Deo that ripped to shreds any notion that Hindi cinema can't do adult comedy. Yes, some may call it potty humor but the films brilliance is open for all to see. Once more this kind of film is not seen every day. The stark difference in presentation, lack of anything candy fluff like and raw appeal makes one say, Congrats to the entire team but also questions whether we will see any more of these types of films.
Performance wise the three leading men can pin their special feather of brilliance from this film onto their caps as it takes more than just acting ability to portray the characters they have played. Special kudos goes to the director for believing that like that tag says, Shit Happens, and Bollywood would accept it.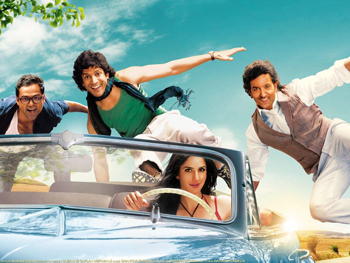 Two: Zindagi Na Milegi Dobara
Three men, a road trip, some life stories and some awesome locations. Zindagi Na Milegi Dobara is a story about living life in the now and taking chances. Add in protagonists Hrithik Roshan, Farhan Akhtar, Abhay Deol, who have proved that they are more than just pretty faces, amazing writers Zoya Akhtar and Reema Kagti and you have a film that will make you live, laugh and fall in love with each character directed by Zoya Akhtar, after her debut Luck by Chance.
Just like many among the audience the little flashbacks for each character shows just how human they are and neither the writing nor the actors delve into unnecessary cinematic liberties. The story that is just as real as those that watched it, Zindagi Na Milegi Dobara will make you fall in love with every aspect of it and think twice about your own life. Not bad for a film touted as a male casted chick flick, don't you think?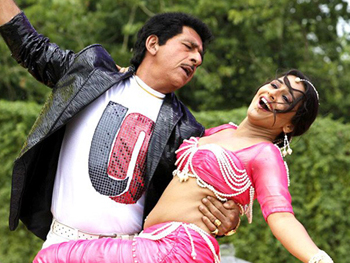 One: The Dirty Picture
Controversy off screen usually plays to curiosity about what will be on screen. After the initial kafuffle with the makers gaining unwanted attention regarding premise of the film, The Dirty Picture sheds the light, on the one and only Silk Smitha's rise and fall in cinema. How appropriate for the number one spot on our top ten at BollySpice.
For those who have not seen this film and have been in their own world, blind to the promotion and marketing of The Dirty Picture, this is more than a biopic of a fallen star. The Dirty Picture displays the glitz, the glam and the hideous hidden face of an era gone by mixed in one helluva masala hot boiler. Queen bee Vidya Balan proved to critics and comrades in Bollywood that she is capable of pulling off any role and how!!! From putting on 10 kilos for this role to what has to be the raciest costumes she has ever donned, Vidya walks away with the whole kit and caboodle of praise for the film as she dominates much like the character she plays. However it would be unfair to say that the male actors did not pitch their two cents in the tale of 1980's bombshell rise and fall on the silver screen.
Special mentions in 2011 bring two films which deserve a pat on the back for their attempt. Mujhse Fraaandship Karoge is a cute love story that is set in an era that is obsessed with Facebook and social networking alike. The film saw not one, not two, but four new faces in the lead and while only a few warmed up to the 'I' generation lingo and emotional incapacity to share embarrassing videos of their peers, director Nupur Ashtana should be applauded for taking a simple boy meets girl love story and adapted it in a cute format close to daily life of a I generation offspring.
Our second special mention is from renowned director Onir and his latest offering I Am.  Where our first special mention was a film that held a premise surrounding Facebook, Onir's I Am began because of social networks like Facebook. A compilations of four short stories, each with an important message and theme relevant to today's society, I Am is a food for thought film on child abuse, gay rights, sperm donation and Kashmir Pandits. An all-star cast that includes big names like Manisha Koirala, Juhi Chawla, Nandita Das. Rahul Bose and Onir's favorite Sanjay Suri in a film that deserves more than just special mention, for its performance, writing and direction.
So as we have said goodbye to 2011, we appreciate the films that made us laugh, cry, fearful and think but we also look forward Bollywood bringing back the magic that we fall in love with every time.