To celebrate the release of Salman Khan's latest film Jai Ho, BollySpice presents to you an exclusive countdown list where we list some of the actor's greatest works. From Best Action Film to Best Song, we give you the lowdown on what has made Salman Khan one of the most iconic and most loved actors in Bollywood history. We hope you like our choices and hope they will make you a bigger fan of Salman than you already may be. Enjoy!
BEST MASALA FILM – Dabangg (2010): Director: Abhinav Singh Kashyap. Producers: Arbaaz Khan, Malaika Arora Khan & Dhillin Mehta.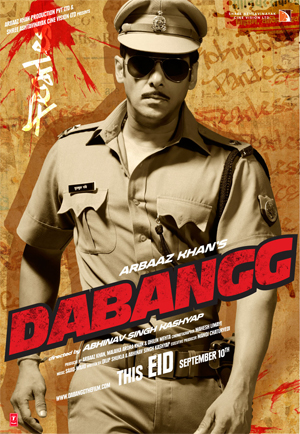 Arguably one of Salman's best works, Dabangg contains everything you would expect from a masala flick. It has action, drama, romance and comedy, with the accompaniment of some flavoursome songs. The film also saw the debut of Bollywood favourite Sonakshi Sinha, who has subsequently managed to build a successful career in the industry. Taking on the role of Inspector Chulbul Pandey, Salman manages to inject a range of qualities into his character which the mass audiences were able to connect with. Some of our favourite scenes from the film include when Chulbul woos Rajjo (Sonakshi Sinha), as well as the confrontational scene between Chulbul and the film's main antagonist Chhedi Singh (Sonu Sood). There are also a treat load of songs such as 'Hud Hud Dabangg,' 'Humka Peeni Hai,' 'Tere Mast Mast Do Nain' and 'Chori Kiya Re Jiya.' Dabangg went onto accumulate over 200 Crores at the box office upon its release which justifies that Salman is adored by the masses. No doubt when Salman puts on Chulbul's police uniform, we are all ready to see him roll!
BEST ROMANTIC SCENE – Maine Pyar Kiya (1989): Director: Suraj Barjatiya. Producer: Tarachand Barjatya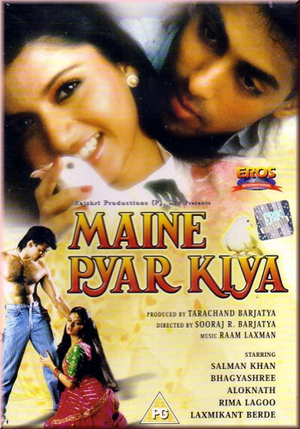 This film marks Salman's debut as a leading man, and boy did he enter with a bang! Maine Pyar Kiya is undoubtedly one of his best films under the romantic genre. The film is based on a middle class boy named Prem (Salman Khan), who falls for a working class girl named Suman (Bhagyashree). Both their fathers are best friends, yet this falls into jeopardy when Prem's father finds out about Prem and Suman's relationship. One scene which we love most is when Prem returns to Suman's house with his monthly earnings from the quarry after having been beaten up by his rivals. All the money has been damaged and Suman's father Karan (Alok Nath) refuses to accept it as the notes cannot be used. Prem does not give up and insists that he will earn the money all over again in order to prove his love for Suman and ultimately take her hand in marriage. Touched by his commitment and love for Suman, Karan breaks down and tells him that he has won his love.
Maine Pyar Kiya is today considered to be an institutional classic. This is largely due to the finely written screenplay, the wonderfully shot romantic scenes, the performances from the leading actors, as well as memorable music by Raamlaxman. In addition, Salman's debut is probably one of the best to have been made in Bollywood history. This can be said with confidence as the release of this film instantly catapulted him to superstardom!
BEST ACTION SCENE – Karan Arjun (1995): Director: Rakesh Roshan. Producer: Rakesh Roshan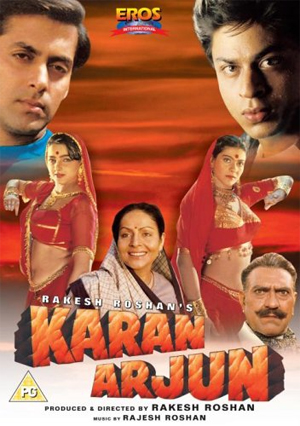 Not many may be aware of the fact that Salman is the only actor to have worked with his two contemporaries (Shah Rukh Khan and Aamir Khan) who together dominated the nineties and noughties. Karan Arjun was the first film to see Salman and Shah Rukh come together in this classic action junkie. Based on the story of two brothers who are reincarnated after being killed by their arch enemy Durjan (Amrish Puri), Karan (Salman Khan) and Arjun (Shah Rukh Khan) manage to reunite and together they go to seek revenge against Durjan. The best scene in the film  Karan Arjun is a memorable classic which is oozing with action and suspense. Needless to say that it also sees two of Bollywood's most iconic actors coming together. Some of the best scenes in Karan Arjun are those where both actors take part in key action sequences!
BEST COMEDIC SCENE – Andaz Apna Apna (1994): Director: Rajkumar Santoshi. Producer: Saqib Ranjha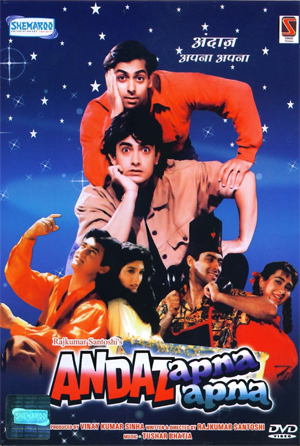 We would be a fool to not declare this Salman's best ever comedy. Andaz Apna Apna sees Salman working for the first time alongside Aamir Khan. Together, they deliver some truly outstanding comedy that has transformed the film into a cult classic. A key scene which you will surely love is when Prem (Salman Khan) laughs at Amar (Aamir Khan) outside the restaurant window upon discovering that Amar's girlfriend Karishma (Raveena Tandon) does not have any financial inheritance. The inheritance belongs to Prem's girlfriend Raveena (Karisma Kapoor). Andaz Apna Apna has a number of laugh out loud moments that will bring a little joy into your lives. Watch it for Salman, Aamir and the numerous jokes and innuendos that makes it one of Bollywood's best ever comedies.
BEST DRAMATIC SCENE – Hum Dil De Chuke Sanam (1999): Director: Sanjay Leela Bhansali. Producer: Sanjay Leela Bhansali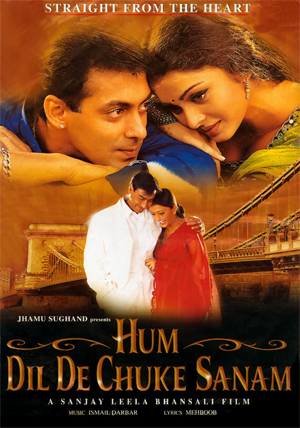 Though most of us remember Hum Dil De Chuke Sanam for Aishwarya Rai, the film also contains a number of scenes where Salman offers his best dramatic performance. Perhaps the most memorable is the final scene of the film where Nandini (Aishwarya Rai) tells Sameer (Salman Khan) that she no longer loves him. You will be impressed with how Salman handled this particular scene and he gets the emotions and body language just right! Hum Dil De Chuke Sanam is also notable for Salman and Aishwarya's great on-screen chemistry, which makes this one of the most iconic films of the nineties.
BEST WOOING – Hum Aapke Hain Kaun (1994): Director: Sooraj Barjatya. Producer: Ajit Kumar Barjatya, Kamal Kumar Barjatya & Rajkumar Barjatya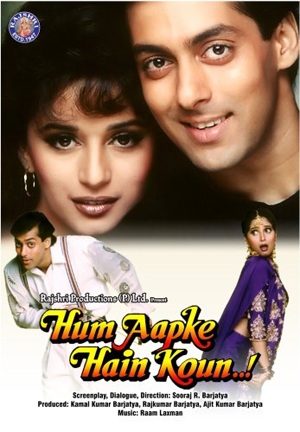 Hum Aapke Hain Kaun is definitely another one of Salman's great films and it is also one of the biggest grossers in Bollywood history. One of the many appeals of Hum Aapke Hain Kaun is the way in which Prem (Salman Khan) attempts to woo the girl of his dreams Nisha (Madhuri Dixit). There are many moments in the film where you will see this, especially in the run-up to Prem's brother and Nisha's sister's wedding. These pivotal romantic scenes helped to solidify Salman and Madhuri's on-screen chemistry and their pairing became a hit with millions of Bollywood lovers! So if you are interested in serenading the woman of your dreams, watch Hum Aapke Hain Kaun to get some long-lasting flirting tricks from Salman!
BEST SONG – 'O O Jaane Jaana' (Pyar Kiya To Darna Kya, 1998)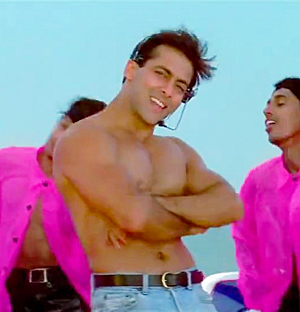 Most of us probably only remember Pyar Kiya To Darna Kya (1998) for this megahit song that is picturized on Salman Khan. 'O O Jaane Jaana' became popular with the masses for its great music, superb lyrics, nice vocals from Kamaal Khan, as well as the well-shot video. Sixteen years after the film's release, it is still widely appreciated and many consider this to be Salman's most memorable song!
BEST SIGNATURE MOVE – Pocket Dance in the song 'Dhinka Chika' (Ready, 2011)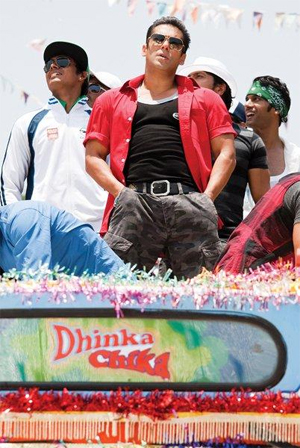 Who would have thought that Salman putting his hands in his pocket would become such a hit with the audience! He amazed us all with the cool male number 'Dhinka Chika' from the masala flick Ready. Surely many have attempted to do the same in front of family and friends whilst keeping Salman in mind. For only Salman can turn a simple move into such a huge hit!
BEST LINE – "Swagat Nahin Karoge Aap Hamara?" (Won't you welcome me?) (Dabangg 2, 2012)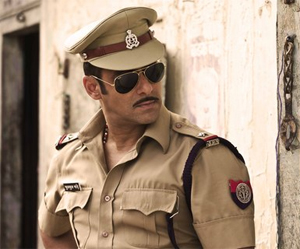 Dabangg 2 was not in the same league as its predecessor, though it became a major hit during its release. Yet this dialogue which Salman utters in the film whilst meeting one of his enemies is arguably the most memorable in his long career. It's the simplest of lines and you wouldn't expect it to become so iconic. Yet only Salman can give that magic touch to a dialogue such as this!
BEST SHIRTLESS MOMENTS – Biwi Number 1 (1999), Hum Saath Saath Hai (1999), & Ready (2011)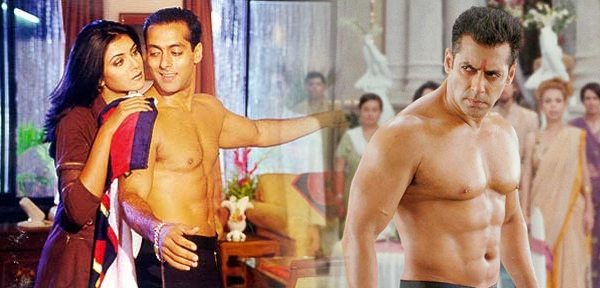 The ladies at BollySpice cited quite a few films where they enjoyed seeing Salman performing one of his well-known moves; that being him being shirtless. They include a scene in Ready (2011) where the heroine admitted that she wanted to see him shirtless (something which has been labelled by our BollySpice ladies as 'very progressive' of Indian cinema). Another film includes Hum Saath Saath Hai (1999) where Salman was shirtless but as soon as Sonali's character walks in, he grabs his shirt quickly to look decent. Finally, Biwi Number 1 (1999) makes it onto the list, as the scene where Sushmita Sen's character checks out a shirtless Salman in her apartment is considered a hilarious moment. The reason being that she was checking out a guy who was much shorter than her.