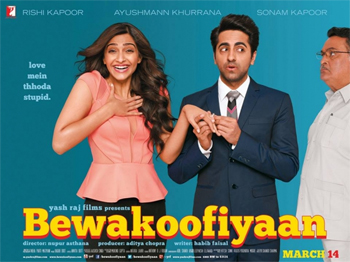 Bewakoofiyaan will see Ayushmann Khurrana and Sonam Kapoor pairing up for the first time. Directed by Napur Asthana, the film also stars Rishi Kapoor and is supposedly based on a father's disapproval of his daughter's boyfriend. The film is scheduled for release on 14 March 2014. The music to the film has been composed by Raghu Dixit, who was also behind the music to Mujhse Fraaandship Karoge (2011). The lyrics have been written by Anvita Dutt Guptan, who has been behind the lyrics for soundtracks such as Student of the Year (2012) and Mere Dad Ki Maruti (2013). So does the music to Bewakoofiyaan live up to our expectations? Read on to find out our verdict!
First up we have Gulcharrey, sung by Aditi Singh Sharma and Benny Dayal. I do like the techno elements of this song, which does have a catch to it. Yet for me, the song was average and did not have a lasting impact on me. Having said this, the vocals were well delivered and deserve acknowledgement. Overall, an okay song which could have been better!
Khamakhaan is next and has been performed by Ayushmann Khurrana and Neeti Mohan. An upbeat number, I found this song to be mediocre and weak in appeal. The main flaw is the composition which has not been well arranged and sounds a little messy. Sadly, this one did not work for me.
Following this we have the title track Bewakoofiyaan sung by Raghu Dixit. I love the western theme of the song and instruments such as the electric guitar and drums have been very well used. I also enjoyed the use of the Indian song mid-way through the song, which gives the song a mix of east and west. In addition, Raghu surprised me with his voice and he adds to the masculine feel of this song. I think this is one of the highpoints of the album and recommend that you check it out!
Next is Rumaani Sa, a duet by Shreya Ghoshal and Mohit Chauhan. Following their phenomenal collaboration with 'Saans' (Jab Tak Hai Jaan, 2012), Shreya and Mohit manage to sing to a respectable song which does have a likable element to it. I think the composition is slightly out there, yet I would also say it's good to indulge in different types of music where possible. An unconventional track which will hopefully be appreciated by many!
Aye Jigida is next and has been performed by Vishal Dadlani. I think this is probably the weakest track in the album and does not have any positive qualities to it. It's a shame since Vishal's vocals will verify for many that he is a very talented singer. Unfortunately, this song just does not do him justice.
Finally we have O Heeriye by Ayushmann Khurrana. This Punjabi number was initially released last year as a solo single and has now been included as part of the film and its soundtrack. Having heard this during its solo release, I fell in love with the song instantly due to the lyrics, Ayushmann's vocals and the nicely composed music. Undoubtedly one of Ayushmann's best performed songs!
To sum up, I found the soundtrack to Bewakoofiyaan to be weak and unfulfilling. A number of songs in this album do not have enough spice in order to have a lasting effect. This is largely due to the compositions, which are not catchy and could have been improved. Given the buzz surrounding Bewakoofiyaan, I really do hope that the film is much better and more entertaining in contrast to its lacklustre soundtrack.