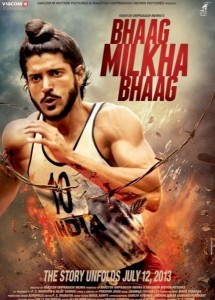 Starring Farhan Akhtar, Rakeysh Omprakash Mehra's Bhaag Milkha Bhaag is the story of the famous Indian runner Milkha Singh. Also starring Sonam Kapoor, BMB is set to release on July 12th. Fans have been intrigued as to what the music will be like for this sports biopic and Mehra brought in the great trio of Shankar Ehsaan and Loy (SEL) to do the job of this highly anticipated film. We have not heard an SEL OST recently and many eagerly awaited to hear their tracks of Bhaag Milkha Bhaag. From the first notes we heard in that first teaser we have been very excited to hear more and with each new song promo it just got better and better!
So do the tracks by SEL live up to our early expectations? Read on to find out!
Zinda already a hit is one killer track. Shankar Mahadevan's son Siddharth Mahadevan is at the mike of this awesome song and boy can he sing! 'Zinda' is full on power rock that also features some very smooth and cool almost ballad sections that are a brilliant change up. The drums, wailing guitars and the resonant beat, be it hard or soft, will have you banging your head and then cooling out, then jumping around to beats of the fab song. I love everything about 'Zinda'. Siddharth sings with power, with emotion, with coolness, with everything he is and he is the perfect voice for this track. SEL have come up with a fabulous rock jam that I know you are going to keep on repeat until the film releases and then probably even more after you see it in the context of the film. One of my favorite SEL tracks, in case you can't tell. Turn this one up to 11! 5 stars
The wicked guitar groove of Mera Yaar with that strong bass and cool, staccato, rhythmic vocal line as another instrument is another fabulous song on the album. I found myself dancing and swaying to the beat sitting at my computer and that is hard, let me tell you, when you are trying to type your notes. Add in the vocals by the terrific Javed Bashir and SEL have done it again. Another musically perfect track. This one just has to be experienced – the groove is just too cool. Not sure about the odd violin section, but that I can ignore, because the combo of Javed Bashir's incredible intonations and sharp and yet smoky-smooth at the same time vocals and the amazing back up music it is too good. Give it a play and then I know you will want to hear it again and again. Excited to see what happens in the film. 5 stars
Maston Ka Jhund also begins with a vocal as part of the instrumentation and it is almost beatboxing but with an Indian flavor. The song then transforms into full Punjabi beat with an extra underlying dark, deep music intonation. Sung by Divya Kumar, he is fabulous but the chorus singers are a bit harsh to my ear. I think this one will play better in the film. There is a synth section in the middle that makes it a bit dance tracky. I found it to be bit of a mess. I would have liked it if they had kept it to the simple Divya Kumar showcase, he is great with the underlying bass line sections. This one is a wait to see in the movie it might get better. 3 stars
Gurbani begins with full orchestra and it is music heaven. Daler Mehndi joins in and is better than I have ever heard him. It is his pure voice and it is amazing. It is very short and I wanted much, much, much, more! Sad in feeling it makes you wonder what can be happening on screen. I can't wait. 4 stars only because it so short.
Arif Lohar is featured on the title track Bhaag Milkha Bhaag and is absolutely fabulous. The music is simple in flavor and is perfect to show off Arif Lohar's pitch-perfect-spicy-strong-full-of-feeling-and-so-many-adjectives-I-can't-even-list-them-all singing. It is perfect for the film and I cannot wait to see what we will see on screen while this song blares from the speakers! Just listen and be amazed by the power of his voice. 4.5 stars
Then there is the very, very, very confusing Slow Motion Angreza. Maybe it will make sense in the context of the film but this begins as a folk song; in the sense of contemporary folk music like those of the 60s in the US not in the sense of folk music from India. I actually had to go and check and make sure that I was not listening to the wrong OST or that I had downloaded the wrong song from iTunes – 3 times. It then transforms into a Hindi fast paced track with still the banjo backing folky flavor. Singing this interesting song is Sukhwinder Singh, Loy Mendonsa, and Shankar Mahadevan. Sukhwinder Singh is great of course but this song is just a WHAT? As I said maybe we will understand when the film hit theaters. Can't even rate it.
O Rangrez is a song that makes you sigh with happiness. Lovely ballad with a modern touch in the beginning it transforms into a pure classic Indian Bollywood song, the type that we all love. Sung by one of my now favorite singers, Javed Bashir, who is incredible once again – his rendition is full of feeling in every note. And then (and this is a good and then) you think it can't better and the beautiful tones of Shreya Ghoshal join in and it is pure magic. This is a song that reaches in and fills you and is one of the reasons I love the music of Hindi films so much. This is perfect Shankar-Ehsaan-Loy, who as we all know are outstanding, and they prove it once again – this song is just WAH! 5 stars
There is also a Rock Version of Bhaag Milkha Bhaag sung by Siddharth Mahadevan and once again he is absolutely rockin'! There is such an amazing tone, feeling, snap and strength to his voice I want to hear him sing much more. This is a completely different version to the title song and being a bit of a rock chick I like this one a bit more for the music, but it does not take away from Arif Lohar's incredible vocals on the original. Love the strong bass and the drums. This one runs along (sorry had to say it once) and hits all the right notes. If you are in the mood to get your rock on then give this one a spin. 4 stars
With this album Shankar, Ehsaan and Loy once again prove why they are one of the most highly respected and best music director groups in Hindi films. But what is so amazing is the range and versatility they show on this OST from pure classic Indian Bollywood, to Punjabi beats, to full on rock, they created a truly superb set of songs, many of which are some of the best songs they have done. I know that the 'Rock Version of Bhaag Milkha Bhaag', 'Bhaag Milkha Bhaag', 'O Rangrez', 'Zinda' and 'Mera Yaar' will be on our best songs list of 2013 and I am sure you will add them to your all time favorite Bollywood songs lists as well. As you know, songs are always even better once they are seen in the narrative of the film and we can't wait to see and love these songs even more!
We will go with a 4 leaning very strongly toward a 4.5 if it wasn't for a couple missteps. But if you skip those then and listen to the brilliance of Bhaag Milkha Bhaag we are sure a 4.5 it will be!